Miller Trailblazer 330 w/ Excel Power #907831001 - Power at Idle (A Miller Exclusive)

Unlike competitive machines that provide auxiliary power only at 3,600 rpm (max), Excel power delivers a full 2,400 watts (20A) of 120V inverter-based, pure sine wave power at idle. With Excel power, you can operate jobsite tools like grinders and lights at a quieter, fuel-saving engine speed.
Refueling time and operating costs are reduced with Excel power, which means more productivity and profitability. Plus, everyone on the jobsite gets a better working environment because noise levels and exhaust emissions are lowered.
Reliable engine-driven welders with unbeatable arc performance, providing the smoothest, most stable arc in the industry. Trailblazer exclusive technologies — advanced Auto-Speed™ and optional Excel™ power — deliver superior runtimes, increase fuel efficiency, and improve engine-driven welder performance. No other compact machine in the 300-amp class delivers more welding power or more auxiliary power with better fuel efficiency and less noise — for productive, profitable, quieter job sites.
Try It For Yourself! Launch Miller's Trailblazer 330 Simulator
---
Applications:
Fabrication
Maintenance Repair
Structural Steel Work
Sheet Metal
Pipe
What's Included:
Trailblazer welder/generator #907831
Not included:

Weld Leads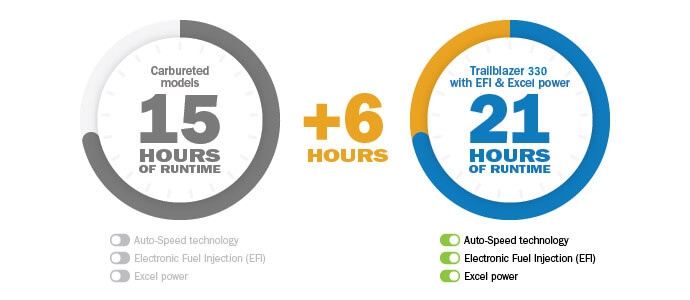 Longer runtimes. More profitability.
---
Features

of the Trailblazer 330 #907831001:

As with the previous model 211, the updated model has a Multi-Voltage Plug (MVP) that allows you to connect to either 120 or 230 V power receptacles without the use of any tools.
Intuitive digital interface with Auto-Set™

makes it quick and easy to precisely set weld parameters for any process.
Lighter and Smaller

- The Trailblazer 330 weighs less than any other engine-driven welder in its class. It's over 80 pounds lighter and 13% smaller than previous models, so it's easier to move and takes up less space on trucks.
Advanced Auto-Speed™

technology automatically varies engine speed from 1,800–3,600 rpm to match weld demands — reducing fuel consumption, maintenance costs and noise for a safer, more efficient jobsite.
Predictive Maintenance
Direct Connect Spool Gun Connection
ArcReach®

for parameter control at the wire feeder or pendant without needing a control cord.
Dynamic DIG™

to optimize arc control for stick welding applications.
Pulsed TIG with QuitePulse™ creates a slower, more fluid transition between background and peak amperage.
Excel™ Power delivers a full 2,400 watts (20 A) of 120-volt inverter-based, pure sine wave power at all speeds, including idle.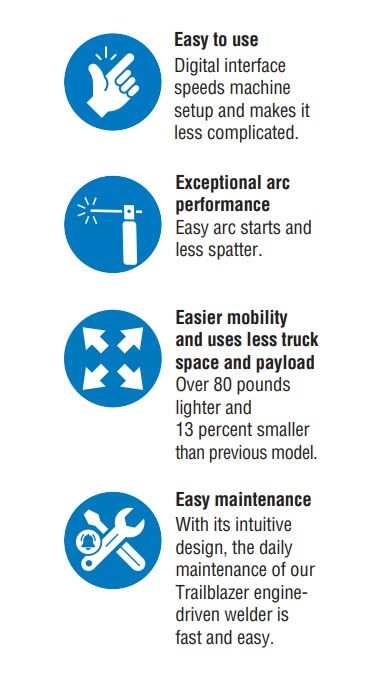 Shop Welders Supply for the best prices on MIG, TIG, Stick and Gas welders from Miller

& other top brands.
Miller Trailblazer 330 Specifications

Welding Mode
CC/DC
CV/DC
Process
Stick/TIG
MIG/FCAW
Battery charge/ crank assist (optional)
Amp/Volt Ranges
20 - 330 A
15-40 V
12/24 V
Rated Weld Output at 104° F (40° C)
330 A at 30 V, 100% duty cycle
325 A at 30.25 V, 100% duty cycle
Charge: 150 A,

Crank assist: 300 A
Single-Phase Auxiliary Power
Peak
12,000 watts
Continuous
10,500 watts
Excel™ power (optional)
2,400 watts, 20 A at 120 V,
60 Hz pure auxiliary power at
idle speed and while welding
Sound Levels at 23 ft (7 m)
Weld
150 A load: 65 dB (90 Lwa)
330 A load: 73.5 dB (98.5 Lwa)
Auxiliary power
Excel power: 65 dB (90 Lwa)
12 kW standard power:
73.5 dB (98.5 Lwa)
SHIPPING DIMENSIONS

Height:
27.00 Inches
Width:
21.00 Inches
Length:
38.00 Inches
Weight:
442 Lb(s) 8 Oz
Product Questions and Answers
Have a question about this product? Submit your question using the form below
People who bought this product were also interested in: