Hypertherm Powermax 105 #059376 is 3x Faster Than Oxyfuel on 12mm Steel
Powermax 105 with Hand Torch (#059376)
The Hypertherm Powermax 105 is a professional-level plasma cutting and gouging system with handheld cutting capacity of 1 1/4" and a mechanized piercing capacity of 7/8". The package includes the Powermax 105 power supply with CPC port and voltage divider, a 75-degree Duramax hand torch, and a 25' lead. If you don't anticipate ever wanting to use this with a CNC table, you may want to consider the Hypertherm Powermax 105 without CPC Port (#059374).
Duramax torches are engineered for superior cuts that require less time grinding and prepping edges. Hand cutting with a Duramax torch is not only faster and cleaner than working with an oxy fuel torch, but the torch handle is designed to withstand high temperatures (as well as impacts). Hypertherm's Smart Sense technology makes plasma cutting easier by automatically setting the correct air pressure based on operating mode and torch length. What's more, electrode end-of-life detection prevents damage to the Powermax torch and work piece by cutting off power when the electrode is overused. It all adds up to a powerful, energy-efficient, long-lasting torch.
Maximum productivity
Fast cut speeds: three times faster than oxyfuel on 12 mm (½") mild steel.
Superior cut and gouge quality means less time spent on grinding and edge preparation.
Easy-to-use for cutting and gouging
Smart Sense™ technology automatically sets correct air pressure based on torch length and operating mode.
Handheld, straight machine and robotic torches for greater versatility and ease-of-use.
Wide voltage tolerance improves performance on motor generators and in low-line conditions.
Improved shield reduces dross buildup and enables smoother drag cutting for a better cut.
Built and tested to withstand the harshest conditions
Duramax™ torches are designed for high impact and heat-resistance.
SpringStart™ technology ensures consistent starting and a more reliable torch.
Low maintenance for maximum uptime – it keeps ongoing.
Low operating cost
Long consumable life for lower cost and more uptime.
Exclusive electrode end-of-life detection protects the torch and workpiece from damage by automatically stopping power when the electrode is overused.
High power efficiency lowers energy consumption.
Browse Powermax 105 consumables or view compatible replacement torch.
GENERAL SPECIFICATIONS
Input Voltages
200-600 V, 3-PH, 50/60 Hz
Kilowatt output
16.8 kW
Input current @ 16.8 kW
200/208/240/480/600 V, 3-PH 58/56/49/25/22 A
Output current
30-105 A
Rated output voltage
160 VDC
Duty cycle @ 104° (40° C)

70% @ 105 A, 240 V, 3-PH

80% @ 105 A, 480-600 V, 3-PH

100% @ 95 a, 480-600 v, 3-PH

100% @ 88 a, 240 v, 3-PH

Open circuit voltage
300 VDC
Cuttable metals
Mild steel, stainless steel, aluminum
Dimensions with handles
23.3" d; 10.8" W; 20.0" H
Weight w/ 25' torch
100 lbs
Gas supply
Clean, dry, oil-free air or nitrogen
Recommended gas inlet flow rate/pressure

Cutting: 460 scfh, 7.7 scfm @ 85 psi

Gouging: 480 scfh, 8.0 scfm @ 70psi

Input power cable length

10'

Power supply type

Inverter- IGBT

Engine drive requirement

30 kW for full 105 A output

Certifications

CSA-certified for use in the Americas and Asia, except China

Warranty

Power supplies have a 3-year warranty and torches a 1-year warranty
Cut Capacity
Capacity
Thickness
Cut speed

Cutting

Recommended
32 mm (1-1/4")
500 mm/min (20 ipm)
38 mm (1-1/2")
250 mm/min (10 ipm)
Severance (hand cutting)
50 mm (2")
125 mm/min (5 ipm)
Pierce

*

22 mm (7/8")
Hypertherm Powermax 105 Error Codes and Troubleshooting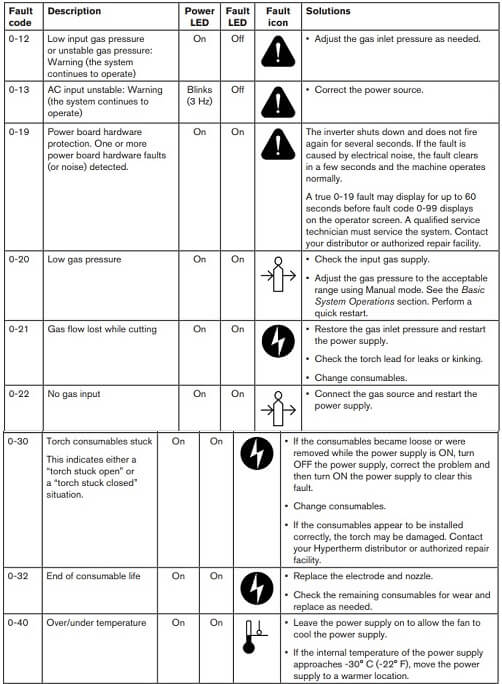 Additional Error Codes and Troubleshooting for the Powermax105
SHIPPING DIMENSIONS

Height:
20.00 Inches
Width:
10.80 Inches
Length:
23.30 Inches
Weight:
100 Lb(s) 0 Oz
Product Questions and Answers
---
Q - How much metal can this remove in gouge mode?
A - 21.7 lbs. per hour at a depth of .25" and width of .29"
Q - How big is the Hypertherm Powermax 105?
A - The dimensions with handles are 23.3" x 10.8" x 20.0". The system weights 100 lbs with a 25' torch.
Have a question about this product? Submit your question using the form below
People who bought this product were also interested in: