Best 240 Volt Plasma Cutters
Multi-input 240V Plasma Cutters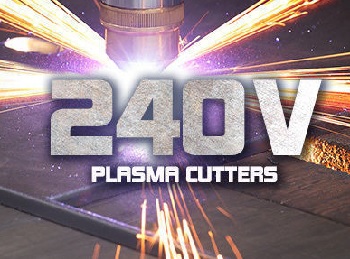 Are you a at home welder, or do you have a small shop where you do all of your welding? Have you often wished that you could get the metal you weld into that personal perfect shape you envision, but your saws and other such equipment or machine do not allow it? Well look no further then here at The Welders Supply Shop for the solution. We stock many of the world's greatest welding machines and to achieve the perfect cut each and every time take a look at these fine 240V plasma cutters.
These plasma cutters still can be run at a home or small business that has a connection to their city/town/areas power grid. Meaning that there is no reason that the machine will not work like a charm each and every time its plugged in. But there is even more that these machine offer. The 240V plasma cutters are unique in the fact that they have the ability to go from 110V up to their max of 240V with a simple turn of a knob; allowing you to cut any metal that you may come into contact with within your small shop or home. And let's face; it if you need something stronger for larger thicknesses of metals you really should not be doing it at home or some place that may be unsafe to do so.
But if this is the case The Welders Supply Company site has all of the plasma cutters, parts, and accessories to keep you running and as safe as possible.