Best Welding Machines for Students
Best Welders for Students: 4 Tips for Welding Students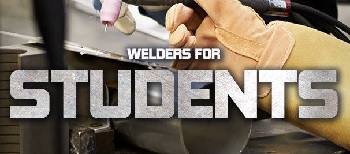 You've been welding for a while, and you're probably looking for a new machine so you can learn new skills. That's great, but don't spend thousands without doing your homework first.

1: Try Something New
If you learned to weld with a MIG welder, it might be time to invest in a new machine to learn a new skill. Consider a stick welder to gain more experience working with heavier materials like cast iron or thicker steel. If you learned to weld using a stick welder, maybe it's time to try MIG welding, or try honing your skills on a TIG welder.

2: Find Something Versatile
There's no one size fits all welder, but there are plenty of great products that can perform multiple roles. Look for MIG welders capable of handling diverse wire diameters or even different spool sizes. Try to find welders capable of TIG and Stick welding, or even MIG welding.

3: Try Going Mobile
Welders today are becoming more compact, and many even come with carts. Having a mobile rig makes it easy to learn to weld on new materials and new locations outside of your shop. There are also gas powered welders available for students looking to learn anywhere.

4: Understand this is an Investment in your Education
The welders available for students tend to be more expensive than entry level welders, but are also much more powerful and effective. Your first welder plants the seed, the second one helps you grow.
Start Small with a Versatile Welder
If you started learning on a MIG welder and want practice with stick or TIG welding, you can't go wrong with the Thermal Arc Fabricator 181i. This Tweco welder is actually three machines in one. Choose between a MIG welder head and a two-in-one TIG/Stick gun to move on from MIG welding. Mobile and affordable, the Thermal Arc Fabricator is an excellent choice for beginner students and one of the best welders for students looking to practice new skills. Plus, it comes with a Tweco hat while supplies last, which is pretty cool.
MIG Welders for Students
Students looking to improve their MIG welding skills at home or in the shop will find everything they need in the Millermatic 212 Auto-Set Wire Welder. Our top pick for MIG welding students, the 190 replaces the 180 and is one of our top selling inverter welders. Suitable for solid steel, stainless and flux cored wires of most diameters, the 190 is ideal for countless MIG welding applications. The 190 also comes standard with a cart, making it a great mobile flux core welder.
Stick Welders for Students
Trying to improve your stick welding skills? The ESAB Fabricator 186 is an excellent choice for welding students who want to expand into stick welding. Welding students who use the Fabricator 186 have the flexibility to perform stick welds and even TIG welds if they feel confident enough. The Fabricator 186 is the perfect machine to help students learn new skills and improve their welds overall.
TIG Welders for Students
While there aren't any TIG welders designed for beginners, a good choice would be the Miller Diversion 180 TIG welder. Featuring the latest in inverter technology, it's the perfect way for welding students to invest in their future earning potential. With a simple three step start up system, the Diversion makes TIG welding incredibly easy. Simply power up the machine, select material type and thickness, and you're ready to start making beautiful welds. Plus, the Diversion can help cut down on shielding gas costs with its auto-post flow feature, which optimizes post-flow time.
Industrial Welders for All Welding Students
Whether you've spent the last 25 years working as a stick welder and want to move on to TIG welding or you want to move on from MIG welding to something more exciting, Welders Supply has a number of affordable industrial welders for students of all experience levels who are looking to broaden their horizons.