Welding Machines by Voltage
Choosing your Power Supply by Power Source
Matching your welding machine by the voltage parameters can maximize your productivity. Whether you are working with 110 v, 220v 3 phase, 220v single phase, or 460v outlets, we have a selection of welders available. Welder Supply Company carries the best brands like Miller, ESAB, Thermal Dynamics, Victor, and more. Some of welder supply's most popular power supply products include the Miller CST™ 280 8-Pack Rack Tweco® 907365 and the Miller XMT® 350 FieldPro™ Narrow 4-Pack Rack 907739.
Picking Your Welder
When choosing a welding machine, make sure it is compatible with your current voltage. Some products have voltage control built-in, such as auto-line(from miller) and multi-voltage sensing capabilities. However, it is important you make sure you are informed. Visit our pages for each individual outlet to understand which welder is best for you.
Electrical Outlet Types
Finding the correct outlet type is key. The graphic below depicts common plug slot configurations for 120v and 240v outlets used for large appliances, as well as welders and plasma cutters: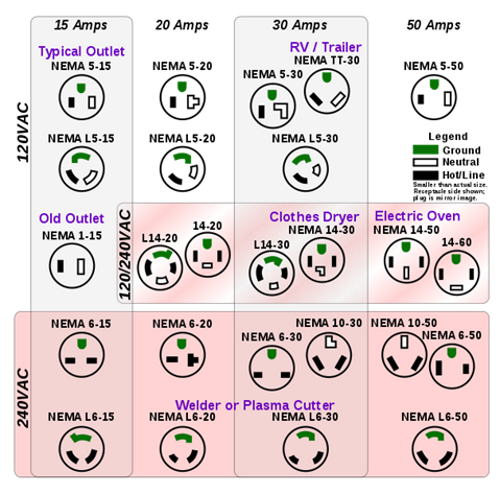 As you can see in the pink and yellow highlighted row for 120/240V outlets, the clothes dryer and electric oven outlets are the only ones with an adaptor compatible with a 220v welding machine (or plasma cutter).
For assistance with your welding equipment questions, call Welders Supply Company at 1-844-682-0205.