Lincoln MIG Welding Machines
Lincoln MIG Welding Machines at Welders Supply

Welders Supply is proud to carry Lincoln welding machines, known within the industry as the Cadillacs of welding machines. Headquartered in Cleveland, Ohio, Lincoln Electric is a storied company with strong midwestern roots. Lincoln MIG welders are excellent on the job because they are versatile and engineered for durability. Lincoln Electric's new Diamond Core Technology™ delivers forgiving arcs that are superior because they splatter less, have wider voltage sweet spots, and offer excellent out-of-position arc action.
Our more popular Lincoln MIG welders include:
Lincoln Electric MIG Welders
Metal Inert Gas (MIG) welding is a type of arc welding and is likely the most common type of welding altogether. MIG welding is also called Gas Metal Arc Welding (GMAW). MIG welding joins metals by heating the surfaces with an arc from consumable filler wire and protecting the molten joint from atmospheric impurities with shielding gas.
A Lincoln Electric MIG welder is your best bet for fabricating, making repairs, ranch work, auto body work, and virtually everything else because MIG welders do it all. If you can only have one welding machine, MIG is the way to go. MIG welders are excellent for beginners and experts alike due to their ease of use and incredible versatility.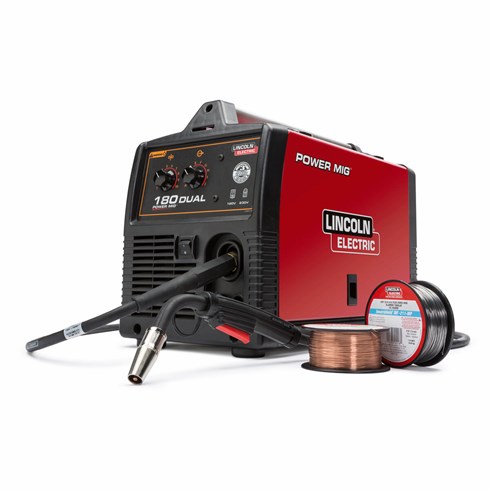 Some Lincoln MIG welders, like the POWER MIG® 215 MPi™ Multi-Process One-Pak®, feature stick, TIG, and flux cored welding capabilities in addition to MIG. Others, like the POWER MIG® 260 MIG Welder, feature just MIG and flux core capabilities but set the standard for light industrial fabrication and repair purposes. The POWER MIG® 360MP Rear Trigger One-Pak® for Auto Repair is a multi-process powerhouse featuring the full range for auto welding and repair.
Lincoln POWER MIG Welding Machines
Lincoln Electric's POWER MIG lineup has something for every welder, whether in the workshop, on the job site, on the farm, or at home. Complete with portable and multi-process welders, POWER MIG is sure to have you covered.
The POWER MIG line even has multi-purpose welding stations that are professional-grade solutions to your trailer and auto fabrication and repair needs. These stations feature stick, TIG, MIG, flux core, and advanced process welding capabilities. Complete with a 7-inch color display and Memory Capability, these welders will enable you to do it all.