Hypertherm Powermax 65 Plasma Cutters
Attachment and Torch Options
The Hypertherm Powermax 65 is a heavy-duty plasma cutter for use in difficult work conditions and on professional-level welding projects. Welders Supply carries the Powermax 65 with six different sets of torches and attachments:
The standard model includes one Duramax™ 75° plasma hand torch with a 25 ft. lead. The lead can also be extended to 50 ft. for larger work environments.
The Powermax 65 is also sold with a Duramax™ 180° machine torch, a CPC port, a voltage divider and a remote hand pendant to to turn the machine on and off. This set of equipment helps you make maximum use of the Powermax 65 with CNC plasma machines. Based on your needs, you can purchase the Powermax 65 with both hand and machine torches or only the machine torch.
Finally, if you do not need a new hand torch, Welders Supply carries the Powermax 65 with only a CPC port. If you need multiple torches, we also have it with a Duramax™ 15° and a 75° hand torch.
Any order of a Powermax 65 can also be shipped with your preferred set of consumables.
5 items found

SORT BY
Hypertherm Powermax 65 Plasma Cutters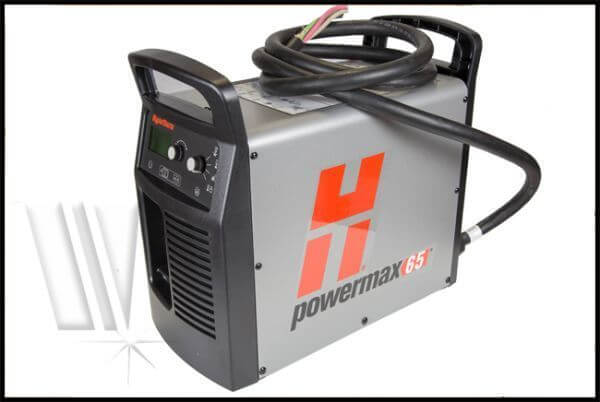 Hypertherm Powermax 65 Designed for heavy-duty cutting and gouging work in difficult environments, the Powermax65 provides 3/4" cutting capacity, Hypertherm's innovative SmartSense™ technology to automatically adjust gas pressure, and compatibility with a variety of Duramax™ torches (including portable automation, X-Y table and robotic cutting).
Superior cut and gouge quality means less time spent grinding prepping edges
Cut speeds one and a half times faster than oxyfuel on ½" mild steel
SmartSense™ technology automatically adjusts gas pressure
SpringStart™ technology ensures consistent starting
Compatible with a variety of Duramax™ torches designed to withstand heat and impacts