Share

Print
$2,205.00
$2,793.00
Reduced Price
You Save
$588.00
CALL or CHAT

for more options
CALL or CHAT

for more options

Millermatic 212 Auto-Set Wire Welder #907405

(some restrictions may apply)

The Millermatic 212 Auto-Set MIG welder is Miller's mid-level 220-volt wire welder. It will weld material from 22 gauge all the way up to 3/8 in (9.5 mm).
This welding machine is great for light fabrication work, machine hobbyists, garage and body shops, and farms and ranches. It's very easy to set up and has a wide window of operation.
With 210 amps of power, it offers superior performance for thin to medium gauge metals and smooth arc throughout its operating range.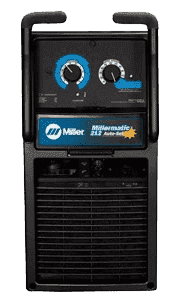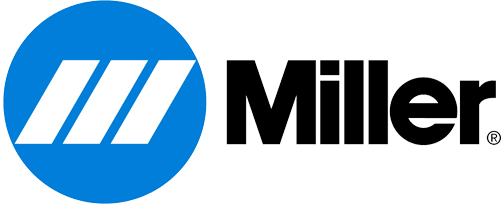 Miller's Auto-Set technology takes the guesswork out of setting up to weld by automatically setting the correct parameters for you to start welding.
Infinite voltage control replaces "tap" settings. It's a big improvement, as it now allows you to "dial-in" precise weld voltage and wire-feed speed when using the Manual Mode.
It's compatible with the Miller Spoolmate 200 spool gun, so you can control the speed of the wire feed right from the gun. This saves you time by eliminating the need to go back to the machine to change the wire speed.
EZ-Change Low Cylinder Rack - No need to lift cylinders off the rack. With the low cylinder rack, you can now just roll your cylinders on and off the rack. This increases worker safety and avoids potential workman's comp claims.
Fan-On-Demand Cooling System - The fan system only operates when needed, so it reduces power consumption and reduces operating and maintenance costs. The Fan-On-Demand system will also reduce the amount of contaminants drawn into your machine.
The Millermatic 212 Auto-Set MIG welder also comes with a 15 foot MIG gun for better reach.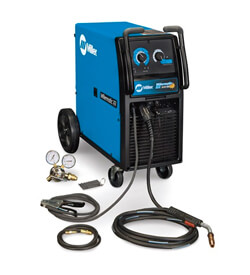 Try these accessories with your new Millermatic 212 Auto-Set Wire Welder: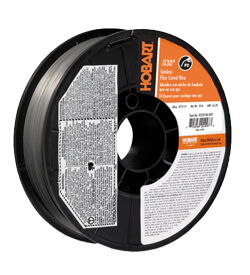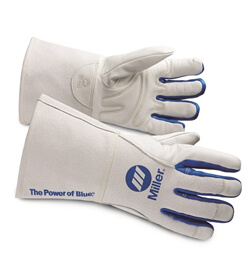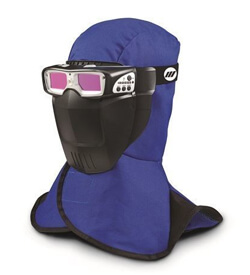 Applications
Aluminum Welding
Fabrication
Farm and Ranch
Field Maintenance and Repair
Home/Hobby
In-Plant Maintenance and Repair
Metal Art/Sculpture
Motorsports (car, truck, bike, etc.)
Schools/Training
Welding Projects
Welders Supply Company offers this great welder at the best price on the web!
Millermatic 212 Specifications

Current Type
DC
Input Power
200(208)/230 V, 1-phase, 60 Hz
Rated Output Specs
160 Amps at 24.5 VDC, 60% duty cycle
210 A at 22 VDC, 30% duty cycle
Amperage Range
30 A - 210 A
Amps Input at Rated Load Output, 60 Hz
200(208)V: 31.2, 2.1 while idling
230V: 27.1, 1.8 while idling
KVA: 6.36, 0.51 while idling
KW: 5.45, 0.26 while idling
Max Open Circuit Voltage
34.5 V
Net Height
30 in. / 762 mm
Net Length
40 in. / 1016 mm
Net Width
W: 19 in. / 483 mm
Net Weight
178 lbs
Portability
Handle(s)
Running Gear / Cart (Standard)
Industries Interests
Metal Fabrication
Maintenance and Repair
Farm/Home
Light Industrial
Processes
MIG (GMAW)
Flux-cored (FCAW)
Weldable Metals
Mild Steel
Stainless Steel
Aluminum
Material Thickness
Mild Steel 24 ga - 0.5 in
Aluminum 18 ga - 0.5 in
Wire Feed Speed
1.3 m/min - 17.8 m/min
50 IPM - 700 IPM
Wire Diameter
.023 - .045 in (0.6 - 1.2 mm) Solid Steel
.023 - .045 in (0.6 - 1.2 mm) Stainless Steel
.030 - .045 in (0.8 - 1.2 mm) Flux Cored
Max Spool Size Capacity
12 in (305 mm)
Warranty
Miller's True Blue Warranty
SHIPPING DIMENSIONS

Height:
43.00 Inches
Width:
51.00 Inches
Length:
64.00 Inches
Weight:
266 Lb(s) 0 Oz
SHIPPING DIMENSIONS

Height:
35.00 Inches
Width:
21.00 Inches
Length:
45.00 Inches
Weight:
218 Lb(s) 0 Oz
---
Have a question about this product? Submit your question using the form below
People who bought this product were also interested in: