Showing 13 of 13 results

SORT BY
Thermal Arc
Thermal Arc Welding Equipment And Supplies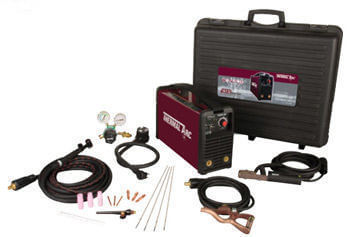 Thermal arc and Tweco have combined forces. Some products formerly known as Thermal Arc have been rebranded and updated under the Tweco name. Check out our Tweco brand welding supplies page for more products.
Thermal Arc is a division of Victor Technologies and leads the world in arc welding technology. Last year, Victor decided to blend the Thermal Arc name into the Tweco Brand. As Thermal Arc says on its website, Thermal Arc and Tweco are now one.
Professional Welders are extremely familiar with Thermal Arc and have great respect for its products. Using Thermal Arc products assures world-class arc welding performance, techniques and safety for the professional welder. The company's entire line is durable, well-designed and expertly manufactured. Thermal Arc has a complete line of quality power supplies and accessories to meet any and all arc welding requirements.
The Thermal Arc product array has always been extensive including STICK (SMAW), TIG (GTAW), MIG (GMAW), wire feeders, multi-process, engine driven and plasma welding systems. New products are constantly in the pipeline, each designed to deliver more productivity and profits for the professional welder. Thermal Arc welding equipment is truly designed with the welder in mind.
Thermal Arc Welding Equipment – affordably priced at Welders Supply -- is proof positive you don't have to spend a lot of money to make a lot of money.
Fabricator Series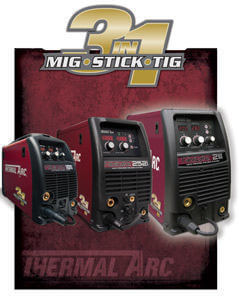 The state of the art technology in Thermal Arc Fabricator Series has set new standards for portable welding equipment. The fabricators deliver 3-in-1 MIG, STICK, and TIG capability from one integrated portable system. This extremely popular and effective product line includes the Fabricator 141i, Fabricator 181i, Fabricator 211i and Fabricator 252i.
Welding Equipment
Thermal Arc's popular line of welding equipment includes stick welders, TIG welders, MIG/Flux-cored welders, multi-process welding systems and power sources as well as wire feeders.
Plasma Welding Equipment
Thermal Arc has developed world-class plasma welding equipment including plasma welders, plasma welding torches and plasma welding consumables.
Welding Accessories
Thermal Arc accessories are cost effective and superbly designed for each Thermal Arc unit. A complete line of welding gear is also offered.
Shop all of our top quality brands of welding equipment from Miller, Tillman, Hobart and more!