Tweco

SORT BY
Our more popular Tweco welding equipment includes:
Tweco Welding Equipment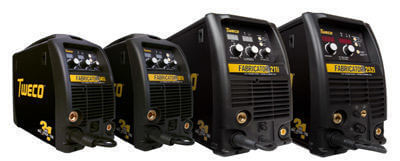 Tweco (Townsend Welding Equipment Company) is a division of Victor Technologies offering an extensive line of top-quality products, ranging from basic manual welding tools and accessories to MIG guns, welding electrodes, consumables and precision robotic welding.
In 2013, Victor merged Thermal Arc products into the Tweco brand. Tweco, an industry leader in MIG arc welding products, has sold over two million MIG guns--and for good reason. They're durable, perform well, and are cost-effective. Tweco is an ISO 9001 certified company, so you are assured of world-class manufacturing quality.
Tweco® Welding and Cutting Products are used Worldwide
The Tweco line includes an extensive array of products, from basic manual welding tools and accessories to MIG guns, welding electrodes, consumables and complete products for precision robotic welding. Tweco is recognized industry leader in MIG arc welding accessories and their products are distributed worldwide.
Fabricator Series
The state-of-the-art technology in Tweco Fabricators has set new standards for portable welding equipment. The Fabricators deliver 3-in-1 MIG, STICK, and TIG capability in one integrated portable system. This extremely popular and cost-effective product line includes the Fabricator 141i, Fabricator 181i, and Fabricator 252i.
Tweco ArcMasters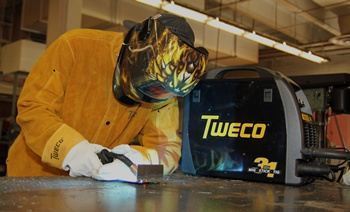 Tweco 401S and 401MST ArcMasters are lightweight, compact and portable. These are tough, well-designed and superbly manufactured units – high performers in any job site. They are easy to carry to any workplace. ArcMasters are versatile, durable, and provide reliable performance in even the most rugged conditions. Their easy lift handle makes them extremely convenient.
The upgraded ArcMasters reflect Tweco's deep commitment to deliver the best-designed and manufactured welding equipment.
Tweco Fusion MIG Guns
Tweco Fusion MIG Guns are ideal for light to medium gauge work. They provide top performance and long product life in many applications, including auto-body, off-road vehicles, agriculture, repair & maintenance, architectural metal work and general light fabrication. The MIG Guns are sturdy units with a practical, welder-friendly design. These guns are perfect for both professional welders and serious hobbyists.
Tweco Velocity MIG Consumables
Tweco Velocity MIG Consumables are the latest breakthrough in high performance patented consumables. Tweco product engineers created all-new innovative technologies to deliver superior performance and value. These consumables perform better, last longer and are far more cost-effective over time. They are just what you'd expect from Tweco.
Tweco Universal Conduit Liner
Tweco is dedicated to making work easier, more comfortable and more cost effective for professional welders, and their universal conduit liner helps by reducing the number of SKUs.
Best Prices on Tweco Welders and Accessories and Free Shipping on Orders over $300
Welders Supply is proud to be a leading online source for top-quality Tweco welding products and supplies. Besides offering the lowest online prices on Tweco products, we also offer free shipping within the continental US on all orders over $300. Fill up your online shopping cart and take advantage of our free shipping offer.
Browse all quality welding equipment from Miller, Tillman, Hobart and more.