Used Miller Dynasty 210 DX #907686 with Foot Control Kit #301309
Used product bundle - Limited quantities available
Gently used for a local Technical College to use during a 1-day event only.
Dynasty 210 DX
The Dynasty 210 DX combines advanced inverter technology with Miller's Auto-Line technology to create the most flexible AC/DC TIG/Stick power supply in the welding industry. Extended AC TIG frequency controls let you choose between four advanced TIG arc waveforms. Although compact and lightweight (just 47 lbs), it can weld up to 1/4" aluminum and 1/4" steel, and with Miller's Autoline you can connect to 120 V to 480 V single-phase or three-phase input power with no manual linking required. A memory card expansion slot allows for expandability.
Processes
Pulsed TIG (GTAW-P)
Stick (SMAW)
TIG (GTAW)
TIG AC (GTAW-AC)
TIG DC (GTAW-DC)
Aluminum Welding
Air Carbon Arc Cutting and Gouging (CAC-A)
Foot Control Contractor Kit
This foot-controlled contractor kit is an all-in-one kit that comes with an RFCS-14 HD foot control. It's the perfect kit to weld hands-free. Plus it comes with a 300-amp work clamp designed to complete electrical circuits to promote a positive welding arc. The clamp has a wide-grip jaw to help ensure a firm connection.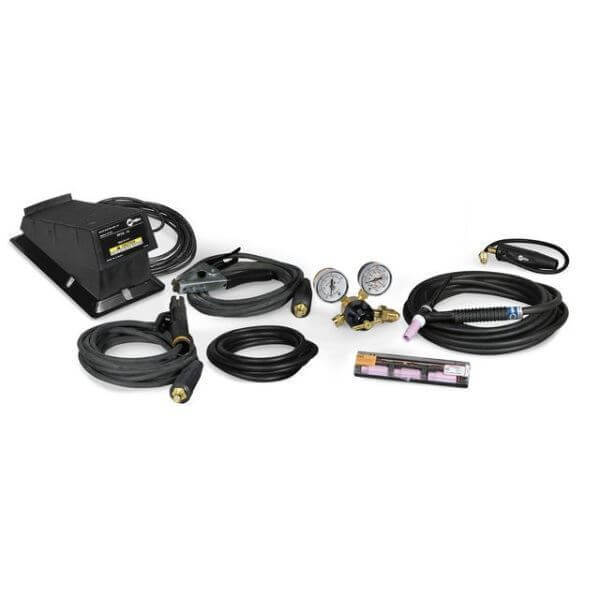 RFCS-14 HD foot controlWeldcraft™ A-150 TIG torch
200-amp Stick electrode holder
300-amp work clamp with 15-foot (4.6 m) cables
Flow gauge regulator with 12-foot (3.7 m) gas hose
gas hose couple
AK2C torch accessory kit and TIG torch connector
How to Control Welding Foot Pedal:
Set Voltage Control.

Set voltage control at your maximum limit so that your control is not too high.

Start the Arc.

Start your initial arc with your welder.

Vary the control.

Press the pedal for more amps and back off for fewer amps. Start pressing it slow as you begin.
What's Included In This Bundle
Used Dynasty® 210 DX
8 ft. (2.4 m) primary cord
Adjustable shoulder strap
Quick Reference Guide
(2) 50 mm Dinse-style connectors
Used Dynasty 210 Foot Control Contractor Kit
THREE extra freebies!
For the best prices on Miller welding equipment and other MIG, TIG and Stick welders, shop Welders Supply online.
Welding Mode
TIG (GTAW)
Stick (SMAW)
Input Power
208 - 480 V
120 V
208 - 480 V
120 V
Welding Amperage Range

2 - 210 A (AC)

1 - 210 A (DC)

2 - 210 A (AC)

1 - 210 A (DC)

5 - 210 A
5 - 100 A
Rated Output

210 A at 18.4 V,

60% duty cycle

125 A at 15 V,

60% duty cycle

160 A at 26.4 V,

60% duty cycle

90 A at 23.6 V,

60% duty cycle

Phase
3-phase
1-phase
1-phase
3-phase
1-phase
1-phase

Amps Input at Rated Load Output, 50/60Hz

120 V

---
---
26
---
---
28
208 V
16
28
---
17
29
---
240 V
14
24
---
15
25
---
400 V
9
14
---
9
15
---
480 V
7
12
---
7
12
---
KVA
6.0
5.8
3.2
6.1
6.0
3.3
KW
5.8
5.8
3.1
5.8
6.0
3.3
Max. Open-Circuit Voltage

80 VDC

(11 VDC)

Dimensions

H: 13.6 in. (346 mm)

W: 8.6 in. (219 mm)

D: 22.5 in. (569 mm)

Net Weight

47 lb. (21.3 kg)

50lb. (22.7 kg) with CPS
General Specifications

Title
Dynasty® 210 DX 120-480 V
Industries Interests
Aerospace
Auto / Cycle (Racing, Customizing, Restoring)
Construction
DIY / Home Hobbyist
Farm and Ranch
Heavy Equipment Manufacturing
Infrastructure
Manufacturing
Metal Art / Sculptures
Railcar
Shipbuilding
Boat / Yacht
High Purity Processing
Portability
Handle(s)
Running Gear / Cart (Optional)
Shoulder Strap
Input Voltage
110/115/120 V
208 V
220/230/240 V
380/400 V
460/480 V
Weldable Metals
Aluminum
Mild Steel
Specialty Metals
Stainless Steel
Warranty
Miller's True Blue Warranty
Material Thickness
Steel: 0.002 in. (0.05 mm) - 1/4 in. (6.4 mm)
Aluminum: 0.012 in. (0.3 mm) - 1/4 in. (6.4 mm)
SHIPPING DIMENSIONS

Height:
13.60 Inches
Width:
8.60 Inches
Length:
22.50 Inches
Weight:
50 Lb(s) 0 Oz
Product Questions and Answers
Have a question about this product? Submit your question using the form below
People who bought this product were also interested in: