Worldwide manufacturer shortages are impacting delivery times. Lead times are more variable than other websites imply. We are a top distributor for Miller Welding; nobody will get you this faster. Call 1-844-682-0205.
Millermatic® 255 MIG/Pulsed MIG Welder 951766 w/ EZ-Latch™ Running Gear
$4,930.00
You Save
$1,031.00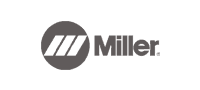 Welding type: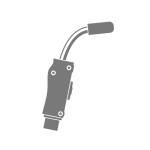 Mig
Material type: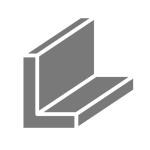 Mild Steel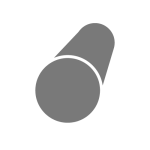 Stainless Steel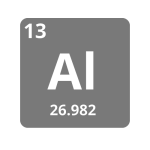 Aluminum
Power supply: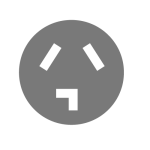 220V Single Phase
Millermatic® 255 MIG/Pulsed MIG Welder #951766 w/ EZ-Latch™ Running Gear- 208/240V
Miller designed the Millermatic 255 for ease of use, efficiency, and productivity--perfect for light manufacturing and fabrication users. A large LCD screen featuring Miller's Auto-Set™ Elite simplifies setting up parameters and allows for custom settings to be programmed into the memory. This 250 amp all-in-one welder connects to 208 or 240-volt input power and welds up to 1/2" aluminum, stainless and mild steel.
Built for professionals in the light manufacturing or fabrication segment who want a smaller, versatile welder with intuitive setup to increase productivity, the Millermatic 255 is a great choice for both novice welders and pros.
---
What's Included:
Millermatic 255 with 10 ft. (3 m) power cord
15 ft. (4.5 m) 300-amp Bernard™ BTB MIG Gun for .035/.045 in. (0.9/1.2 mm) wire
10 ft. (3 m) work cable and clamp and 50mm Dinse-style connector
Flow gauge regulator and gas hose for argon or AR/CO2 mix
Extra Contact tips
.035/.045 in. (0.9/1.2 mm) reversible drive rolls
Chain to secure gas cylinder
Material Thickness Gauge
EZ-Latch™ Running Gear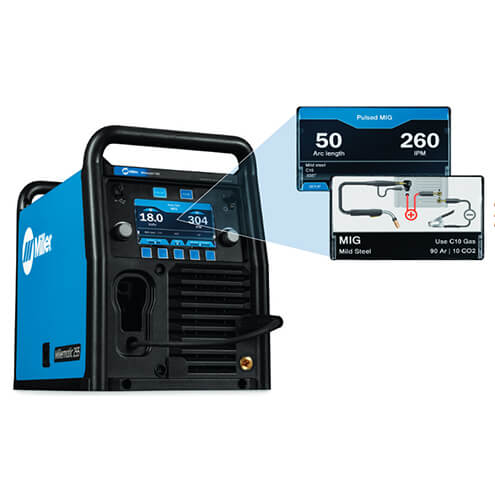 ---
Features:
Easy-to-understand interface - A 7-inch color LCD display further guarantees proper machine setup and parameter selection. Welders can spend more time welding than wasting time setting up their machine.
Pulsed MIG welding delivers higher quality - The lower heat input of this Millermatic causes less distortion on thin materials. Less spatter will minimize post-weld grinding and rework again, allowing more time for welding.
Auto-Set™ Elite - This feature offers predefined weld settings with the ability to fine-tune and set weld parameters by wire and gas type, wire diameter and material thickness. Program mode allows easy save and recall of favorite weld settings, eliminating the need to manually set parameters and ensuring consistent quality by welders of all skill levels.
Program mode allows easy save and recall of favorite weld settings - Welders of all levels can cut their setup time in half by having their preferred weld settings ready at the touch of a button.
Auto-Line™ Technology - Allows single-phase input voltage hookup (208-240 V) with no manual linking -- ideal for dirty or unreliable power.
Portability - Machine only weighs 84 lb. - Take advantage of better mobility and easier access to hard-to-reach spots. The Millermatic 255 weighs 50% less than the Millermatic 255.
EZ-Latch™ running gear - Operators don't need a lift truck to load the welding machine and running gear into a truck. The EZ-Latch™ running gear uses latches to secure the machine to the running gear. To disengage the machine simply loosen the latch retaining knob and rotate the latches.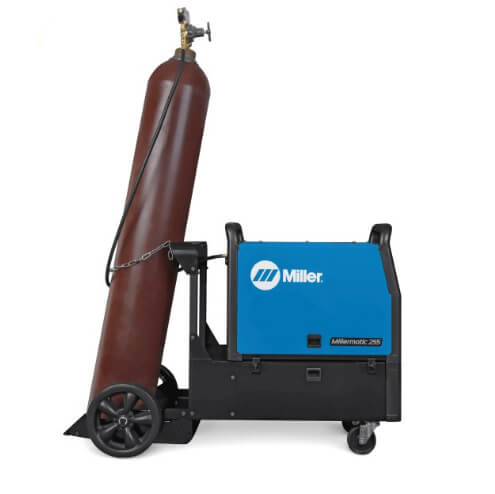 General Specifications Millermatic® 255 MIG/Pulsed MIG Welder w/ EZ-Latch™ Running Gear

Weldable Metals

Steel
Stainless Steel
Aluminum
Input Voltage

208 V
220/230/240 V
Current Type
DC
Input Phase
1 Phase
Input Hz
60 Hz
Input Amperage

20-350
Wire Diameter

Aluminum 0.035 in 0.047 in
Flux Cored 0.03 in 0.045 in
Stainless 0.023 in 0.045 in
Solid Steel 0.023 in 0.045 in
Spool Size
12 in (305 mm)
Wire Feed Speed
50 IPM - 800 IPM
Net Width
13.75 in
Rated Output
230 A at 25.5 V, 60% duty cycle
Max Open Circuit Voltage
87 VDC
Amperage Range
20 A - 350 A
Weld Output
CV
Warranty
3 Years
Miller's True Blue Warranty
SHIPPING DIMENSIONS

Height:
42.00 Inches
Width:
19.00 Inches
Length:
40.00 Inches
Weight:
180 Lb(s) 0 Oz
Product Questions and Answers
---
Q - Is there an inductance setting on this?
A - Yes, it has an inductance setting of 0-99 with a default of 50.
Q - What gas should you use on the pulse program?
A - 90/10 to pulse weld mild steel and a mix of 65% argon, 33% helium and 2% CO2 for stainless steel.
Q - What push pull guns will work with this?
A - The Miller XR-Aluma Pro A Gun (#300000), Miller XR-Aluma Pro Lite Gun (#300948) will both work fine with the Millermatic 255.
Q - Which spool guns can I run with this?
A - The Miller Spoolmatic 15A (#195156), Miller Spoolmatic 30A (#130831) and Miller Spoolmatic 200 MIG Spoolgun (#300497) will all work with the Millermatic 225.
Q - Is there a difference between the 255 and 252?
A - Compared to the previous model (Millermatic 252), the 255 is 84 lbs lighter (50% lighter) and features a EZ-Latch cart capability which doesn't require any other tools. The 255 also comes with the latest MDX gun and pulsed MIG welding technology.
Have a question about this product? Submit your question using the form below
People who bought this product were also interested in: