Thermal Dynamics CUTMASTER 52 208/230Volt Plasma Cutter Part#1-5130-1
Thermal Dynamics CUTMASTER 52 208/230Volt Plasma Cutter Part#1-5130-1
$1,389.00
Save $692.00
(Reg. $2,081.00)
Adding this item to your cart will qualify your order for US domestic


In Stock

Share

Print

ADD TO CART
Other Versions:
View literature of this machine:

View all Thermal Dynamics Plasma Cutting Systems
People who bought this product were also interested in:
Thermal Dynamics CUTMASTER 52 #1-5130-1
How long have you been limping along with underpowered, run-of-the-mill plasma cutting machines that fail to live up to their claimed capacity? Too long! It's time to experience TRUE cutting performance from the Thermal Dynamics Cutmaster 52.
We all know how frustrating it is to find out the actual cut capacity of the machine you bought just isn't sufficient. The Cutmaster 52 doesn't play those games. It was designed from the straightforward premise that recommended cut capacity should also be the true cut capacity. With the TRUE Cut series, there's no more need to "buy up" to make sure you get the performance you need. The Cutmaster 52 has a one-half inch recommended capacity and, by golly, that's just what it will cut—all day, every day!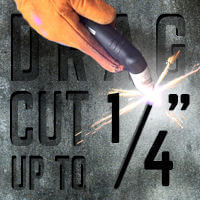 Besides offering the most power and the lightest weight of any 1/2" (12 mm) machine on the market, the CUTMASTER TRUE™ Series offers the precision of their TRUE Cut Drag Tip Series™, which makes drag cutting up to 1/4" (6 mm) a cinch. The Cutmaster 52 will also cut through mild, stainless, or aluminum up to 1 1/8" (30 mm) thick, and its industry-leading 1Torch® with ATC disconnect makes adding lead extensions or converting to a machine torch easy.
Shop Plasma Cutting Machines at the best prices on the web at Welders Supply.
Thermal Dynamics CUTMASTER Features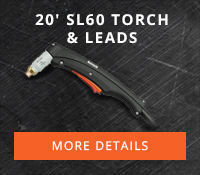 Front Panel LEDs indicate status conditions for maximum efficiency.
Storage compartment for convenient access to spare parts and consumables.
Versatile 1Torch with ATC disconnect makes it easy to add lead extensions or convert to a machine torch.
True Guard roll bar provides easy transportation and protection for unmatched durability.
Multi-voltage allows operation from 208 to 480 Volts in a single power supply.
Auto Pilot Restart feature instantly reignites the pilot arc while cutting expanded metals.
Lighter weight design for maximum portability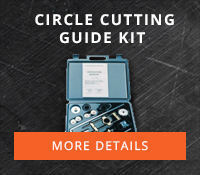 General Specifications

Included Features

Power Supply
20 ft. (6.1m) Lead
1Torch SL60, 75 deg. Head
10 ft. (3.0m) Input Power Cable
Work Cable and Clamp
Spare Parts Kit
Operating Manual

Process(es)

Manual Air Plasma Cutting

Torch

SL60 with ATC (hand), SL100 (mechanized)

Certifications

IP23S

Industrial Applications

Construction
Maintenance/Repair
Fabrication

Cut Capacity

0.50 in. (12mm) Recommended Cut
1.125 in. (30mm) Maximum Cut

Rated Output

60 Amps

Amperage Range

20-60 Amps

Output Power

6.2kW

Input Volts

Multi-Voltage/Phase Capable
208-230/460V, 1/3Ph, 50/60 Hz, Configured for 208-230V 1Ph
400V, 3Ph, 50Hz
600V, 3Ph, 50/60Hz

Input Amps @ Rated Output

45A @ 230V, 1Ph
24A @ 230V, 3Ph
16A @ 460V, 3Ph

Duty Cycle

40% @ 60A
60% @ 55A
100% @ 50A

Plasma Gas

Air @ 75 psi

Weight

43 lbs (19.5kg)

Warranty

4 Years Power Supply, 1 Year Torch

Certifications

Pilot

Start Cartridge

Control

Hand Torch Switch or Hand Pendant Control
Thermal Dynamics CUTMASTER 52 208/230Volt Plasma Cutter 1-5130-1
Thermal Dynamics CUTMASTER 52 208/230Volt Plasma Cutter Part#1-5130-1

Thermal Dynamics CUTMASTER 52 208/230Volt Plasma Cutter Part#1-5130-1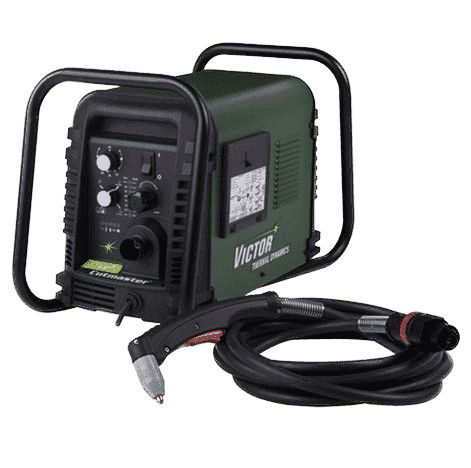 Adding this item to your cart will qualify your order for US domestic


In Stock

ADD TO CART

Share

Print
Other Versions:
View literature of this machine:

View all Thermal Dynamics Plasma Cutting Systems