Miller Multimatic 220 AC/DC Multiprocess welder #907757
$5,181.00
You Save
$1,082.00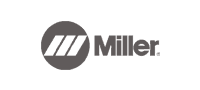 Welding type: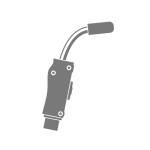 Mig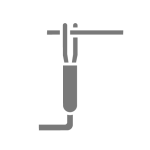 Stick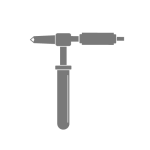 Tig
Material type: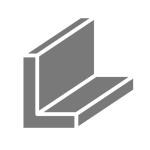 Mild Steel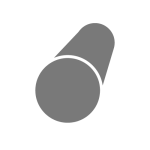 Stainless Steel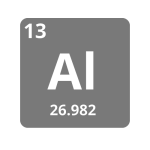 Aluminum
Power supply: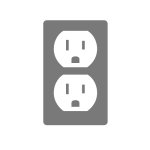 110V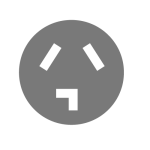 220V Single Phase
Miller Multimatic 220 AC/DC Multiprocess Welder #907757
The Miller Multimatic 220 AC/DC Multiprocess welder is a hobbyist and small shop's dream! With the freedom to weld any process; MIG, Flux-Cored, Stick, and AC/DC TIG - with one portable, powerful welder. Demonstrates excellent arc quality on both 120 and 240 Volt power!
Coming standard with a color LCD screen, this multi-process welder also features Miller's Auto-Set Elite™. Auto-Set Elite™ allows you to set TIG, MIG and Stick welding parameters automatically and only requires the user to enter metal thickness and tungsten electrode or welding wire diameter, and allows you to tune weld setting manually to fit your personal preferences. It uses Miller's exclusive multi-voltage plug (MVP™) to run on either 120 volt or 240 volt input power and weighs only 56 pounds.
---
Additional Features:
Intuitive LCD Screen
Manual Mode with Additional Adjustments
TIG
AC Balance - adjustable from 60-80%
AC Frequency - adjustable from 60-150 Hz
DC Pulse - adjustable from OFF-150 pulses per second (PPS)
Tungsten Size Selection
TIG Post-Flow - adjustable from Auto-25 seconds (accessible through service menu)
Stick: DIG Control
Lift-Arc™ and High-Frequency TIG Starts
Two Gas Connections (MIG and TIG)
Pro-Set™ in TIG and Stick Manual Modes
Quick Select™ Drive Roll
Standard 14-Pin Connector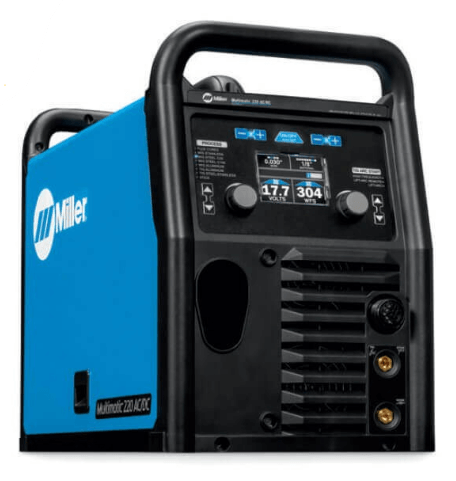 ---
Standard Features

of the Miller Multimatic 220 AC/DC Multiprocess Welder 907757

This multi-process welder is capable of AC (aluminum) TIG welding producing up to 210 amps of TIG welding output and 230 amps of MIG welding output. The Miller Multimatic 220 AC/DC is a completely portable Stick, MIG & AC/DC TIG welding package that comes with:
6.5 ft (2 m) power cord and MVP™ adapter plugs for 120V and 240V
10 ft MDX™-100 MIG Welding Gun
13 ft (4 m) cable electrode holder and 25 mm Dinse-style connector
12.5 ft (3.8 m) Weldcraft™ A-150 (WP-17) TIG torch with 25mm Dinse-style connector
RFCS-14 HD foot control with 20 ft (6 m) cord
10 ft (3 m) work cable with clamp and 25 mm Dinse-style connector
Two Argon and AR/CO2 mix regulator/flow gauge with hoses
Spool of Hobart® .030 in (0.8 mm) solid wire
Two contact tips for .030 in (0.8 mm) wire
Quick Select™ drive roll for .024 in (0.6 mm) or .030/.035 in (0.8/0.9 mm) solid wire, and .030/.035 (0.8/0.9 mm) flux cored wire
AK2C TIG torch accessory kit
Material thickness gauge #229895
Hook-and-loop cord wraps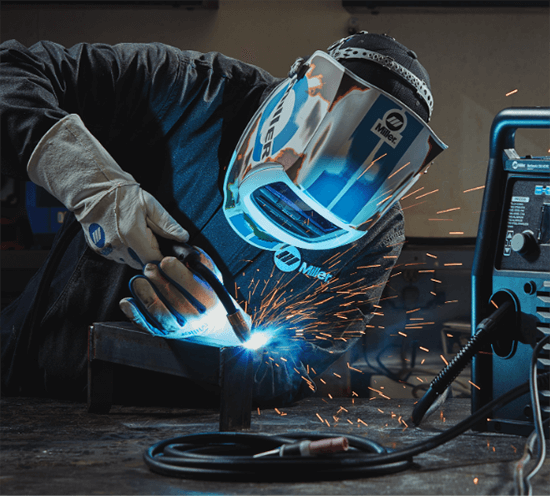 ---
Miller MULTIMATIC 220 AC/DC Multiprocess Welder General Specifications:

Input Voltage
110/115/120 V
220/230/240 V
Input Phase

1-Phase
Weldable Metals

Aluminum
Stainless Steel
Steel
Input Hz

50 / 60 Hz
Current Type

AC / DC
Max Open Circuit Voltage

45 VDC
Spool Gun Compatibility
Spoolmate™ 100, Spoolmate 150
Wire Feed Speed

1,5 m/min - 15.2 m/min
60 IPM - 600 IPM
Weld Output
CC / CV
Portability
Handle(s)
Running Gear / Cart (Optional)
SHIPPING DIMENSIONS

Height:
17.50 Inches
Width:
11.25 Inches
Length:
21.50 Inches
Weight:
56 Lb(s) 0 Oz
Customer Reviews
Terri . . .in Customer Service Rocks!!
Any trouble ordering . . call and ask for Terri . .she was fantastic and helped me thru the entire process!! YOU ROCK TERRI!!!
Product Questions and Answers
---
Q - What is max thickness it is rated for?
A - 3/8", but it will TIG weld 24ga to 1/4"
Q - What's the largest spool that can be used with tis?
A - It will take up to an 8" spool.
Q - What cart would work with this?
A - The Miller Dual Cylinder Rack Cart will fit this well. Part #951770.
Q - Can this be used with a spool gun?
A - Yes.
Q - Will this TIG weld aluminum?
A - Yes.
Q - What size aluminum will the Miller Multimatic 220 weld?
A - The Miller Multimatic 220 can weld up to 3/8" aluminum (18 gauge) with your MIG gun, and up to ¼" thick aluminum (24 gauge) with your TIG gun.
Q - Will the Miller Multimatic weld stainless steel?
A - Thanks to the Multimatic's TIG high-frequency start feature, it's the perfect machine for welding stainless steel and aluminum.
Have a question about this product? Submit your question using the form below
People who bought this product were also interested in: