Hypertherm Powermax 45 XP #088112 Hand System w/o CPC - 20' Leads
Hypertherm Powermax 45 XP #088112 Hand System w/o CPC - 20' Leads
Adding this item to your cart will qualify your order for US domestic


In Stock

Share

Print
Other Versions:
People who bought this product were also interested in:
Powermax 45 XP #088112 The new standard in small, portable plasma cutters.
Powermax 45 XP: More Power To You
How do you improve on the best-selling and nearly legendary Hypertherm 45? Start with more power--70 percent more than many competitive systems. Enough power to easily slice through steel up to 5/8" thick and sever nearly twice that thickness. And with Hypertherm's Smart Sense™ technology, which automatically monitors and adjusts air for maximum performance, the cuts are so clean you won't have to spend a lot of time grinding and prepping edges.
Powermax 45 XP At A Glance
5/8" (16mm) rated cutting capability (mild steel, stainless steel, aluminum)
Duramax® Lock torch with disable switch for fast and easy replacement of consumables.
CNC interface and FastConnect™ torch connection
Smart Sense™ automatically monitors and adjusts air pressure for maximum performance
Patented drag-cutting technology for ease of use
Consumables available for fine feature cutting, extended reach cutting, gouging, precision gouging, marking
It Does More So You Can Do More
Also new on the 45 XP is a Duramax® Lock torch with a torch disable switch for fast and easy replacement of consumables. A FastConnect™ torch connection lets you make quick torch changeouts—and with 11 different torch styles available, you have plenty to choose from. The entire system is lighter and easier to work with, and its patented drag-cutting technology makes it easy for even novices to use.
Duramax®Lock Torches
The Hypertherm Powermax 45 XP comes equipped with a Duramax® Lock torch for maximum versatility and ease of use.
Built to withstand hard impacts and heat
SpringStart™ technology ensures consistent starts and superior torch performance
Hypertherm Certified™ reliability is your assurance of performance under the most demanding conditions
What sets the Powermax 45 XP apart from the Powermax 45?
| | | |
| --- | --- | --- |
| | Powermax 45 | Powermax 45 XP |
| Output current | 20-45 | 10-45 |
| kW output @max power | 5.95 | 6.5 |
| Cut capacity | ½" (12mm) | 5/8" (16mm) |
| Severance | 1" (25mm) | 1 1/8" (29mm) |
| Auto gas adjustment | no | yes |
| Easily accessed, protected air filter regulator | no | yes |
| Number of torch options | 2 | 11 |
| Consumables styles | 4 | 7 |
| Machine interface options | standard CPC port | Optional CPC port with 5 position selectable voltage divider card or serial port via RS-485 communication |
| F5 gas operation | no | yes |
| Precision gouging capability | no | yes |
Included With This Package (#088112):
This package includes the Powermax 45 XP CSA Hand System with CPC Port and 20 ft (6.1m) leads. All components in this package are fully backed by Hypertherm's 3-year warranty (Powermax) and 1-year coverage on torch and lead.
Input voltages
(± 10%)

CSA

200 – 240 V, 1-PH, 50-60 Hz
480 V, 3-PH, 50-60 Hz

CE/CCC

230 V, 1-PH, 50-60 Hz
400 V, 3-PH, 50-60 Hz

Input Current @ 5.95 kW

CSA

200/240 V, 1-PH, 39/32 A
480 V, 3-PH, 9.4 A

CE

230 V, 1-PH, 33 A
400 V, 3-PH, 10 A

Output current

10 - 45 A

Rated output voltage

145 VDC

Duty cycle @ 40°C (104°F)

CSA

50% @ 45 A, 200 – 240 V, 1-PH
60% @ 41 A, 200 – 240 V, 1-PH
100% @ 32 A, 200 – 240 V, 1-PH
50% @ 45 A, 480 V, 3-PH
60% @ 41 A, 480 V, 3-PH
100% @ 32 A, 480 V, 3-PH

CE/CCC

50% @ 45 A, 230 V, 1-PH
60% @ 41 A, 230 V, 1-PH
100% @ 32 A, 230 V, 1-PH
50 % @ 45 A, 400 V, 3-PH
60% @ 41 A, 400 V, 3-PH
100% @32 A, 400 V, 3-PH

Open circuit voltage (OCV)

275 VDC (200-240 V, CSA/CE/CCC and 480 V, CSA)
265 VDC (400 V CE/CCC)

Dimensions with handles

442 mm (17.4") D; 173 mm (6.75") W;
357 mm (14.1") H

Weight with 6.1 m (20') torch

CSA

14 kg (31 lbs)

CE

15 kg (33 lbs)

Gas Supply

Cutting: air (clean, dry and oil-free), nitrogen, F5
Gouging: air (clean, dry and oil-free), nitrogen, F5
Marking: air (clean, dry and oil-free), argon

Recommended gas inlet
flow rate / pressure

188 l/min (400 scfh; 6 scfm) @ 90 psi (5.9 bar)

Input power cable length

3 m (10')

Power supply type

Inverter - IGBT

Engine drive requirement
12.5 kVA (10kW) for full 45 A output
Electrical efficiency
88%
Recyclability
100%
Certifications
CSA certified for use in Americas and Asia, except China. CCC for use in China. CE, REM, GOST-TR, ukrSEPRO, and Serbian AAA for use in Europe, Austrailia, Belarus, Kazakhstan, Russia, Serbia, Ukraine, and other countries where accepted
Warranty

Power supply: 3-year
Torch: 1-year
Hypertherm Powermax 45 XP #088112 Hand System w/o CPC - 20' Leads

Hypertherm Powermax 45 XP #088112 Hand System w/o CPC - 20' Leads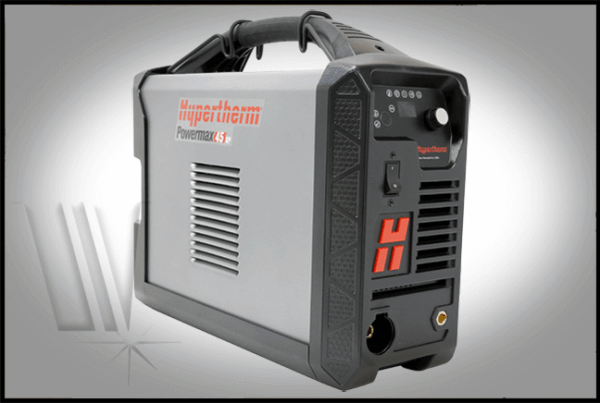 Adding this item to your cart will qualify your order for US domestic


In Stock

Share

Print