Hypertherm Powermax 65 (200-600 V CSA) 180° Full-Length Machine Torch, 25', CPC Port and Voltage Divider with Remote Pendant #083277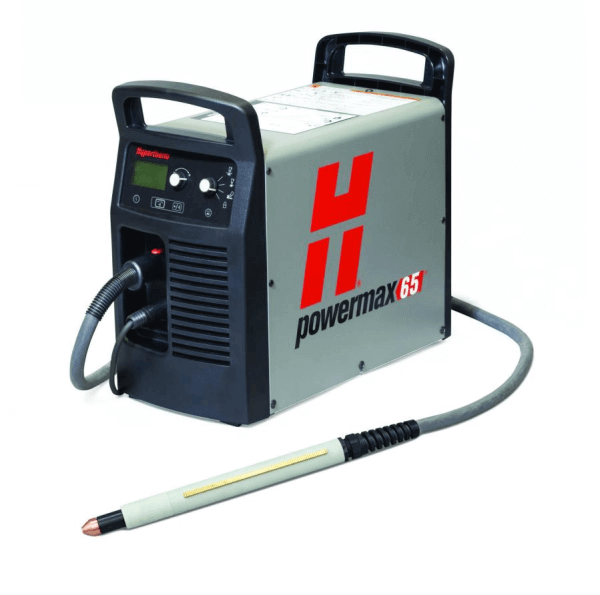 Share

Print
$3,375.00
$3,800.00
Reduced Price
You Save
$425.00



Hypertherm Powermax 65 180° Full-Length Machine Torch, 25', (200-600 V CSA) CPC Port and Voltage Divider with Remote Pendant #083277

The Hypertherm Powermax 65 offers the latest in technological advancements when it comes to plasma cutters, such as the Smart Sense™ which automatically adjusts the gas pressure of the unit in relation to the mode that you have set it to and the torch lead length, automatic detection of the end of the electrodes of life through the power supply itself, and Hypertherm's unparalleled Duramax™ torches. These torches are designed for durability and reliability. Featuring Spring Start™ technology in each and every one of them; this technology eliminates moving parts in the torch and ensures consistent starting of the electrode each and every time. Allowing for several modes of operation to be performed with them, such as handheld mechanical cutting/gouging, or robotic cutting/gouging. All of this comes together to allow for the recommended cutting thickness of metal to be 20mm at 20ipm to a maximum of 25mm at 10ipm mechanically, or 32mm at 5ipm by hand. Each piercing the metal continually and evenly at 16mm. While the gouging of the metal is rated as being at 10.7lbs/hr.; achieving a 3.5mm depth by 6.6mm width groove.
Mechanized Torch Provides Versatility
The Hypertherm Powermax 65 is designed for heavy-duty cutting and gouging. With a 25-foot hand torch and 180° mechanized torch, this plasma cutter offers the versatility for a wide range of jobs.
Smart Sense™ automatically adjust gas pressure
SpringStart™ for more reliable, consistent starting
Variety of Duramax™ torches for hand cutting or gouging, robotic cutting or gouging, portable automation, and X-Y table
HYPERTHERM Powermax 65 CONSUMABLES AND KITS
Stock up on consumables with the Powermax 65 handheld consumable kit or Powermax 65 mechanized consumables kit.
There are many different and affordable plasma cutters and Hypertherm machine torches here at Welder Supply Company we proudly offer you many of them.
Specifications

Input voltages
CSA
200 – 600 V, 3-PH, 50/60 Hz
Input Current @ 9 kW
CSA
200/208/240/480/600 V, 3-PH, 32/31/27/13/13 A
Output current
20 - 65 A
Rated output voltage
139 VDC
Duty cycle @ 40°C (104°F)
CSA
50% @ 65 A, 230 – 600 V, 1/3-PH
40% @ 65 A, 200 – 208 V, 1/3-PH
100% @ 46 A, 230 – 600 V, 1/3-PH
Open circuit voltage (OCV)
CSA
295 VDC
Gas Supply
Clean, dry, oil-free air or nitrogen
Recommended gas inlet
flow rate / pressure
Cutting: 189 l/min (400 scfh; 6.7 scfm) @ 85 psi (5.9 bar)
Gouging: 450 scfh; 212 l/min (7.5 scfm) @ 70 psi (4.8 bar)
Input power cable length
3 m (10')
Power supply type
Inverter - IGBT
Engine-driven generator operation

Engine drive rating
System output current
Performance (arc stretch)
15 kW
65 A
Full
12 kW
65 A
Limited
12 kW
40 A
Full
8 kW
40 A
Limited
8 kW
30 A
Full
Production cut chart

Material
Thickness
Current
Production cut speed*
inches
mm
amps
ipm
mm/min
Mild steel
10 GA
3
65
224
6100
1/4
6
65
116
3240
3/8
10
65
62
1500
1/2
12
65
40
1140
5/8
16
65
26
650
Stainless steel
10GA
3
65
296
8260
1/4
6
65
96
2850
3/8
10
65
52
1250
1/2
12
65
32
920
Aluminum
1/8
3
65
336
8800
1/4
6
65
152
4400
3/8
10
65
68
1650
1/2
12
65
48
1330
Hypertherm Powermax 65 Error Codes and Troubleshooting
Additional Powertherm 65 errors and fault codes
Hypertherm Powermax 65 PDFs
Hypertherm Powermax 65 Plasma Cutter
Hypertherm Powermax 65 in action
Hypertherm Powermax Demo (30, 45, 65, 85, 105)
---
Have a question about this product? Submit your question using the form below
People who bought this product were also interested in: