Share

Print
CALL or CHAT

for more options
Limited Time Offer: Receive additional 1 year extended warranty on Powermax Systems purchased now through August 31, 2021 ($600 Value) – go to www.hypertherm.com/registration to register your product and enter promotion code "WARRANTY"
Bundle Options (check all that apply):
CALL or CHAT

for more options

Worldwide manufacturer shortages are impacting delivery times. Lead times are more variable than other websites imply. We are a top distributor for Hypertherm; nobody will get you this faster. Call 1-844-682-0205.

ADD TO CART
Financing
AVAILABLE!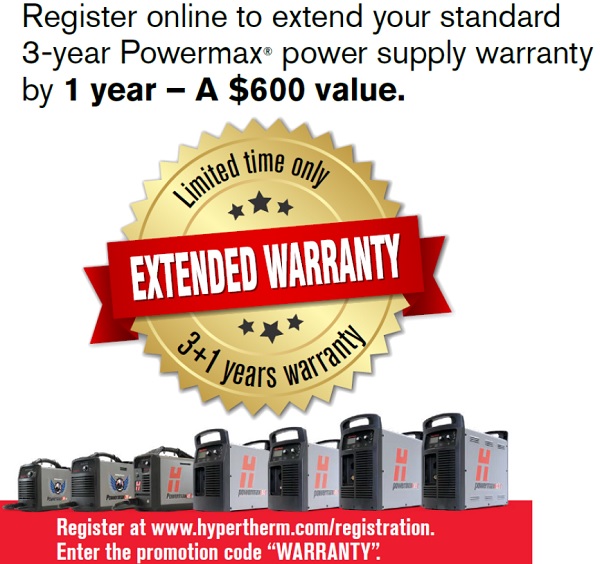 Terms and Conditions
The system must have been purchased on or after January 1, 2021
Promotion ends August 31, 2021
Only valid for Powermax power supplies purchased in U.S. and Canada
For full terms of the promotion please visit https://visit.hypertherm.com/extendedwarranty


Hypertherm Powermax 85 Mechanized Plasma Cutter #087132

The Powermax 85 cuts faster, cuts with higher quality, and delivers longer consumable life than any comparable 85 amp plasma cutter. It's a great machine for 1" cutting, and with an array of Duramax torches that fit, you'll enjoy excellent versatility for X-Y table, portable automation cutting, or handheld cutting. Long-lasting consumables plus faster, more accurate cutting means higher productivity and lower operating costs. This package (#087132) includes:
Hypertherm Powermax 85 power supply
Hypertherm H85 180-degree machine torch
25' work cable with clamp
CPC port
Hypertherm Powermax 85 Mechanized Plasma Cutter #087132: Gives You All You Need
This bundle includes the power supply, H85 machine torch and 25-foot cable, but fifty-foot cables are also available. There are additional Duramax torches you can add to your setup for greater versatility: a 75-degree hand torch, a 15-degree hand torch, and a 180-degree mini machine torch. Each is extremely well-designed and durable, with unsurpassed heat and impact resistance.
Hypertherm Duramax™ series machine torches can cut, pierce, and gouge with automated and semi-automated systems. Torches can be attached with a universal mounting bracket. The Powermax 85 can then be connected with CNC and THC machines for remote operation.
Hypertherm Powermax 85 Mechanized Plasma Cutter At A Glance:
Cut capacity on mild steel or aluminum is recommended at 1" (25 mm) with a maximum up to 1.25" (32 mm).
Severance is up to 1.5" (38 mm).
Mechanized pierce capacity is 5/8" (16 mm).
Smart Sense™ technology adjusts gas pressure automatically depending on the type of cutting and torch lead length.
Boost Conditioner™ circuit improves performance from any power source.
FastConnect™ torches, four work leads and Computer Numerical Control interface let you maximize versatility for either handheld and mechanized use.
Simplified control panel with LCD screen.
Duramax machine torches let you tackle a wide variety of mechanized applications. You can use X-Y tables, track systems, pipe or robotic cutting.
Conical Flow™ nozzle boosts arc energy density for better-quality cutting and less dross.
Shield cuts dross buildup for smoother, better drag cutting.
Applications:
Welding repair services
Industrial equipment manufacturing and repair
Commercial ship manufacturing and repair
Farming and logging
Metal Service Centers
Metal Scrapping and dismantling
Industrial construction
Truck and trailer manufacturing and repair
Vocational training
Shop Hypertherm parts and accessories:
Hypertherm Powermax 65/85 Retaining Cap #220854
Hypertherm Powermax 85 Nozzle #220816
Hypertherm Powermax 65/85 Electrode #220842
Hypertherm Powermax 65/85 Nozzle 45A # 220941
Hypertherm Powermax 65/85 Swirl Ring #220857
Hypertherm Air Filtration Kit #128647
Hypertherm Powermax 65/85 Cover #127301
Hypertherm Powermax 85 Consumable Spare Parts Kit #850890
HYPERTHERM Powermax 85 CONSUMABLES AND KITS
Stock up on consumables with the Powermax 85 handheld consumable kit or Powermax 85 mechanized consumables kit.
View literature of this machine:
Hypertherm Powermax 85 Plasma Cutter
Product Questions and Answers
---
Q - What is the gouge capacity for the Powermax 85?
A - 19.5 lbs per hour with a groove profile of .23 depth by .28" width.
Q - What breaker size should I use with a Hypertherm Powermax 85?
A - The PMX 85 system draws 58 amps max. when operated on 240 Volt single phase input power. For most use it will draw much less than that. When cutting at 85 amps on thinner material it will use less power, and thicker materials.
How to pierce a workpiece:
Stabilize workpiece.

Attach clamp to workpiece.

Align Torch.

Hold torch at 30° and within 1/16".

Begin arc.

Fire torch and rotate to 90°.

Piece workpiece.

Hold torch in place until sparks come out the other side indicating workpiece is pierced.

Complete cut.

Drag nozzle lightly to complete the cut.
Have a question about this product? Submit your question using the form below
People who bought this product were also interested in: