Share

Print
$4,366.50
$4,891.50
Reduced Price
You Save
$525.00
CALL or CHAT

for more options
Bundle Options (check all that apply):
CALL or CHAT

for more options



Hypertherm Powermax 85 Handheld Plasma Cutter #087109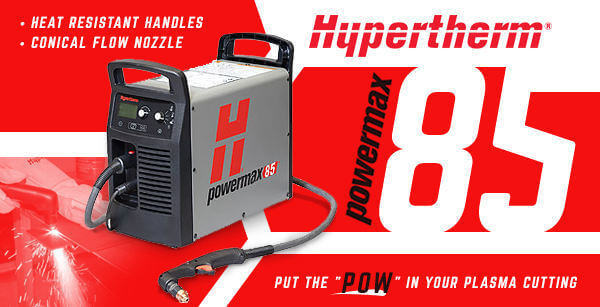 The Hyperthem Powermax 85 plasma cutting machine cuts 1" Mild Steel in 20IPM. The Hypertherm Powermax 85 Hand cutting system features a 0 ft lead. For the best pricing on Hypertherm Powermax 85 plasma cutter electrodes, nozzles, shield deflectors, and all other welding supplies choose Welder Supply.
Key power supply advantages of Hypertherm Powermax 85
Smart Sense™ technology automatically adjusts the gas pressure according to cutting mode and torch lead length for optimal performance.
Boost Conditioner™ circuit (on CSA models) improves performance on low-line voltage, motor generators, and fluctuating input power.
FastConnect™ torches, optional CNC interface, and four work lead styles increase versatility for handheld and mechanized use.
Simplified control panel with LCD screen for easy operation.
Key machine torch advantages of Hypertherm Powermax 85
15° and 75° Duramax™ series hand torches enable operators to easily select the right tool for the job. The handle is more heat resistant and performs at least five times longer in high impact tests than previous torches.
Standard and short-barreled Duramax series machine torches allow a wide variety of mechanized applications with X-Y tables, track systems, pipe, and robotic cutting systems.
Conical Flow™ nozzle increases arc energy density for superior cut quality with little dross.
Patent-pending shield reduces dross buildup and enables smoother drag cutting for a better cut.
View a video of this machine:
Compare differences of Powermax 85 plasma cutter by Hypertherm vs 30xp, 45, 65, 105 and 125.
View literature of this machine:
Hypertherm Powermax 85 Plasma Cutter
Hypertherm Powermax 85 CNC cutting 1.25 inch steel
---
Have a question about this product? Submit your question using the form below
People who bought this product were also interested in: