Powermax85 (200-600 V CSA) with 180° Machine Torch, 25' Leads, Remote Pendant, CPC Port & Voltage Divider 087115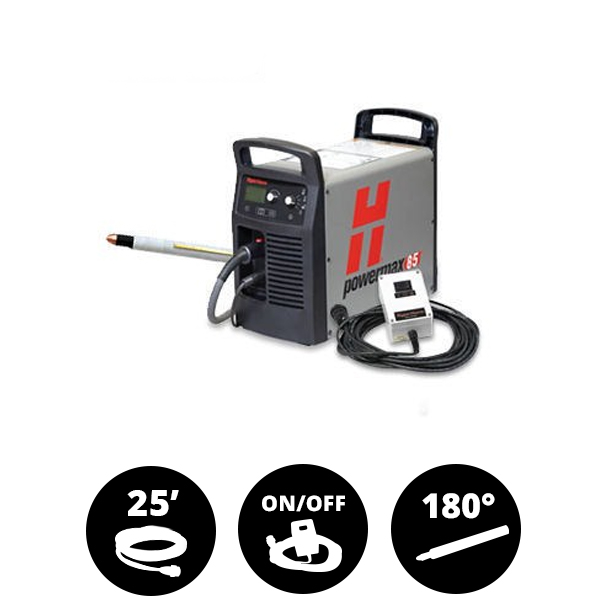 Share

Print
CALL or CHAT

for more options
Limited Time Offer: Receive additional 1 year extended warranty on Powermax Systems purchased now through August 31, 2021 ($600 Value) – go to www.hypertherm.com/registration to register your product and enter promotion code "WARRANTY"
Bundle Options (check all that apply):
CALL or CHAT

for more options

Worldwide manufacturer shortages are impacting delivery times. Lead times are more variable than other websites imply. We are a top distributor for Hypertherm; nobody will get you this faster. Call 1-844-682-0205.

ADD TO CART
Financing
AVAILABLE!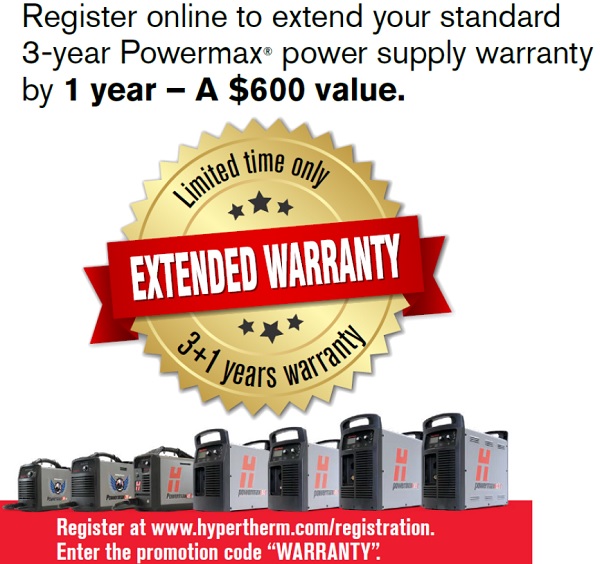 Terms and Conditions
The system must have been purchased on or after January 1, 2021
Promotion ends August 31, 2021
Only valid for Powermax power supplies purchased in U.S. and Canada
For full terms of the promotion please visit https://visit.hypertherm.com/extendedwarranty


Powermax 85 (200-600 V CSA) with 180° Machine Torch, 25' Lead, Remote Pendant, CPC Port & Voltage Divider #087115

A highly regarded system with a max cut capacity of 1" (25 mm) material, the Powermax 85 has the same great features and options as the Powermax 65, but with more power from a max output current of 85 amps. The power supply has a CPC Port and a Voltage Divider. This system comes with the 180° Full-Length Machine Torch.
Duramax torches are designed for durability and reliability. Spring Start™ technology in the electrode eliminates moving parts in the torch and ensures consistently reliable starting. A long consumable life and electrode end-of-life detection in the power supply combine to reduce operating costs.
A Mechanized Machine for Maximum Power and High-Performance Cutting
Powermax 85 Machine Torch Features:
Cut speeds 2 1/2 times greater than oxyfuel on 1/2' mild steel
Conical Flow nozzle reduces dross and increases arc energy density for better quality cutting
Low maintenance for maximum uptime
HYPERTHERM Powermax 85 CONSUMABLES AND KITS
Stock up on consumables with the Powermax 85 handheld consumable kit or Powermax 85 mechanized consumables kit.
Capacity
Thickness
Cut speed
Cutting
Recommended
25 mm (1")
500 mm/min (20 ipm)
32 mm (1-1/4")
250 mm/min (10 ipm)
Severance (hand cutting)
38 mm (1-1/2")
125 mm/min (5 ipm)
Pierce*
20 mm (3/4")
* Pierce rating for handheld use or with automatic torch height control
Capacity
Metal removal rate
Groove profile
Gouging
Typical gouge
8,8 kg/hr
(19.5 lbs/hr)
5,8 mm D x 7,1 mm W
(0.23" D x 0.28" W)
Hypertherm Powermax 85 Error Codes and Troubleshooting
Additional Powertherm 85 errors and fault codes
View literature of this machine:
Hypertherm Powermax 85 Plasma Cutter
Product Questions and Answers
---
Q - Will exposure to dust be a problem for this machine?
A - In dusty conditions, we recommend the Air filtration kit, which has a 1-micron filter. We also recommend a dust cover when your machine isn't in use. /P/891/HyperthermAirFiltrationK
Q - How does Hypertherm's trade-in program work?
A - You need to fill out a claim form. the form has info on the credit amount you'll receive, which varies depending on which system or torch you buy.
How to install machine interface cable:
Turn OFF.

Switch power to OFF and disconnect power supply.

Remove cover.

Remove the machine interface receptacle cover.

Connect cable.

Connect the Hypertherm machine interface cable.

Plug in cable.

Plug cable into pin connector on controller or CNC.

Secure with screws.

Use assembly kit to secure cable.
Have a question about this product? Submit your question using the form below
People who bought this product were also interested in: