Powermax85 (200-600 V CSA) with 75° and 15° Hand Torches, 25' Leads, CPC Port & Voltage Divider #087144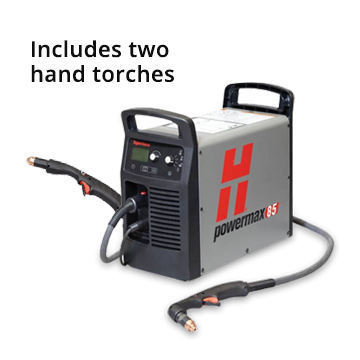 Share

Print
$4,662.50
$5,237.50
Reduced Price
You Save
$575.00
CALL or CHAT

for more options
Bundle Options (check all that apply):
CALL or CHAT

for more options



Powermax 85 (200-600 V CSA) with 75° and 15° Hand Torches, 25' Leads, CPC Port & Voltage Divider #087144

The premier system for cutting 1" (25 mm), the Powermax 85 has the same features and options as the Powermax 65, but with more power from a max output current of 85 amps. This machine comes with a power supply with a CPC Port and a Voltage Divider.
MECHANIZED TORCH PROVIDES VERSATILITY
The Hypertherm Powermax 85 mechanized machine is designed for heavy-duty cutting and gouging. With 25-foot leads, 75° and 15° mechanized torches, this plasma cutter offers the versatility for a wide range of jobs.
Smart Sense™ automatically adjust gas pressure
SpringStart™ for more reliable, consistent starting
Variety of Duramax™ torches for hand cutting or gouging, robotic cutting or gouging , portable automation, and X-Y table
HYPERTHERM Powermax 85 CONSUMABLES AND KITS
Stock up on consumables with the Powermax 85 handheld consumable kit or Powermax 85 mechanized consumables kit.
Duramax torches are designed for durability and reliability. Spring Start™ technology in the electrode eliminates moving parts in the torch and ensures consistent reliable starting. Electrode end-of-life detection in the power supply combines with long consumable life to reduce operating costs.
75° and 15° hand torches are included.
Hypertherm Powermax 85

Input Voltages

200-480 V, 1-PH, 50/60 Hz

200-600 V, 3-PH, 50/60 Hz

Kilowatt output
12.2 kw
Input current @12.2 kW

200/208/240/480 V, 1-PH 70/68/58/29 A

200/208/240/480/600 V, 3-PH 42/40/25/18/17 A

Output current
25-85 A
Rated output voltage
143 VDC
Duty cycle @ 104°F
60% at 85 A, 230-600 V, 3-PH
60% at 85 A, 480 V, 1-PH
50% at 85 A, 240 V, 1-PH
50% at 85 A, 200-208 V, 3-PH
40% at 85 A, 200-208 V, 1-PH
100% at 66 A, 230-600 V, 1/3-PH
Open circuit voltage
305 VDC
Dimensions with handles

H: 17.9 in

W: 9.2 in

D: 19.7 in

Weight w/25' torch
71 lb (32 kg)
Gas supply
Clean, dry, oil-free air or nitrogen
Recommended gas inlet flow rate/pressure

Cutting: 400 scfh, 6,7 scfm @85 psi

Gouging: 450 scfh, 7,5 scfm @ 70 psi

Input power cable length
10 ft
Power supply type
Inverter - IGBT
Engine drive requirement
20 kW for full 85 A output
Certifications
CSA-certified for use in the Americas and Asia, except China
Warranty
Power supplies have a 3-year warranty and torches a 1-year warranty
Capacity
Thickness
Cut speed
Cutting
Recommended
25 mm (1")
500 mm/min (20 ipm)
32 mm (1-1/4")
250 mm/min (10 ipm)
Severance (hand cutting)
38 mm (1-1/2")
125 mm/min (5 ipm)
Pierce*
20 mm (3/4")
* Pierce rating for handheld use or with automatic torch height control
Capacity
Metal removal rate
Groove profile
Gouging
Typical gouge
8,8 kg/hr
(19.5 lbs/hr)
5,8 mm D x 7,1 mm W
(0.23" D x 0.28" W)
Hypertherm Powermax 85 Error Codes and Troubleshooting
Additional Powertherm 85 errors and fault codes
Cut Charts for the Powermax85 (mild steel, stainless steel & aluminum)
View literature of this machine:
Hypertherm Powermax 85 Plasma Cutter
---
Have a question about this product? Submit your question using the form below
People who bought this product were also interested in: