Share

Print
$3,740.00
$4,375.00
Reduced Price
You Save
$635.00
Hypertherm Powermax 85 features heat-resistant handles, dross shield, Conical Flow nozzle, and LCD output screen. Free shipping anywhere in the lower 48 states!
Add item to cart for

People who bought this product were also interested in:
Other Versions:
087144 (200-600 V CSA) 75° and 15° Hand Torch CPC Port & Voltage Divider
087135 180° Machine Torch & 75° Hand Torch CPC Port, Voltage Divider, and Remote Pendant
087115 (200-600 V CSA) 180° 25 Ft. Machine Torch CPC Port & Voltage Divider with Remote Pendant
087132 25 Ft. Machine Torch
087109 50 Ft. Hand Torch


Hypertherm Powermax 85 Handheld Plasma Cutter #087108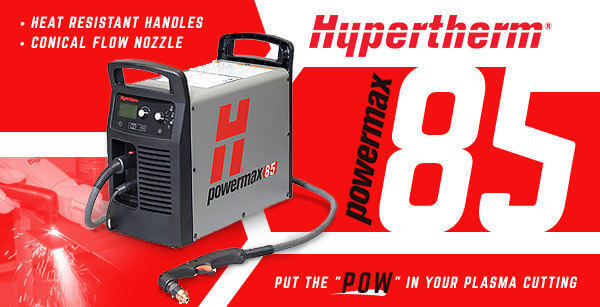 A Machine Torch That'll Enhance Your Plasma Cutting
Hypertherm Powermax 85 handheld plasma cutter from Welders Supply is perfect for long CNC plasma cutting jobs. Heat resistant plasma cutter handles prevent the cutter from becoming too hot to use. The dross shield prevents dross buildup from slowing down your cutting cycle, maintaining high quality plasma cutting with less cleanup. The Conical Flow nozzle also reduces dross and increases arc energy density for better cut quality. The plasma cutter control panel also features an LCD output screen for ease of operation.

Put the "POW" in your Plasma cutting with the POWERMAX 85! View all our Hypertherm Powermax 85 Handheld Plasma Cutter accessories: cover, electrode, nozzle, swirl ring and more!
The Hyperthem Powermax 85 plasma cutting machine cuts 1" Mild Steel in 20IPM. The Hypertherm Powermax 85 Hand cutting system features a 25 ft lead. For the best pricing on plasma cutters and all other welding supplies choose Welders Supply.
Dont forget these accessories for your new Hypertherm Powermax 85!
Key power supply advantages of mechanized Hypertherm Powermax 85
Smart Sense™ technology automatically adjusts the gas pressure according to cutting mode and torch lead length for optimal performance.
Boost Conditioner™ circuit (on CSA models) improves performance on low-line voltage, motor generators, and fluctuating input power.
FastConnect™ torches, optional CNC interface, and four work lead styles increase versatility for handheld and mechanized use.
Simplified control panel with LCD screen for easy operation.
Key torch advantages of Hypertherm Powermax 85
15° and 75° Duramax™ series hand torches enable operators to easily select the right tool for the job. The handle is more heat resistant and performs at least five times longer in high impact tests than previous torches.
Standard and short-barreled Duramax series machine torches allow a wide variety of mechanized applications with X-Y tables, track systems, pipe and robotic cutting systems.
Conical Flow™ nozzle increases arc energy density for superior cut quality with little dross.
Patent pending shield reduces dross buildup and enables smoother drag cutting for a better cut.
To view a video of this machine:
Compare Hypertherm Powermax 85 plasma cutter vs 30xp, 45, 65, 105 and 125.
HYPERTHERM POWERMAX85 CONSUMABLES AND KITS
Stock up on consumables with the Powermax85 handheld consumable kit or Powermax 85 mechanized consumables kit.
Hypertherm Powermax 85 Specifications
Input voltages

200-480 V, 1-PH, 50/60 Hz
200-600 V, 3-PH, 50/60 Hz

Kilowatt output

12.2 kW

Input current @ 12.2 kW

200/208/240/480 V, 1-PH 70/68/58/29 A
200/208/240/480/600 V, 3-PH 42/40/35/18/17 A

Output current

25-85 A

Rated output voltage

143 VDC

Duty cycle @ 104° F

60% @ 85 A, 230-600 V, 3-PH
60% @ 85 A, 480 V, 1-PH
50% @ 85 A, 240 V, 1-PH
50% @ 85 A, 200-208 V, 3-PH
40% @ 85 A, 200-208 V, 1-PH
100% @ 66 A, 230-600 V, 1/3-PH

Open circuit voltage (OCV)

305 VDC

Dimensions with handles

D: 19.7"
W: 9.2"
H: 17.9"

Weight w/ 25' torch

32 kg (71 lbs)

Gas supply

Clean, dry, oil-free air or nitrogen

Recommended gas inlet flow rate/pressure

Cutting: 400 scfh, 6,7 scfm @ 85 psi
Gouging: 450 scfh, 7,5 scfm @70 psi

Input power cable length

10'

Power supply type

Inverter - IGBT

Engine drive requirement

20 kW for full 85 A output

Certifications

CSA-certified for use in the Americas and Asia, except China

Warranty

Power supplies have a 3-year warranty and torches a 1-year warranty
Troubleshooting
View literature of this machine:
Hypertherm Powermax 85 25ft Hand system #087108

Hypertherm Powermax 85 25ft Hand system #087108