Share

Print
Hypertherm Powermax 85 features heat-resistant handles, dross shield, Conical Flow nozzle, and LCD output screen. Free shipping anywhere in the lower 48 states!
Limited Time Offer: Receive additional 1 year extended warranty on Powermax Systems purchased now through August 31, 2021 ($600 Value) – go to www.hypertherm.com/registration to register your product and enter promotion code "WARRANTY"
Hypertherm Powermax 85 features heat-resistant handles, dross shield, Conical Flow nozzle, and LCD output screen. Free shipping anywhere in the lower 48 states!

Worldwide manufacturer shortages are impacting delivery times. Lead times are more variable than other websites imply. We are a top distributor for Hypertherm; nobody will get you this faster. Call 1-844-682-0205.

ADD TO CART
Financing
AVAILABLE!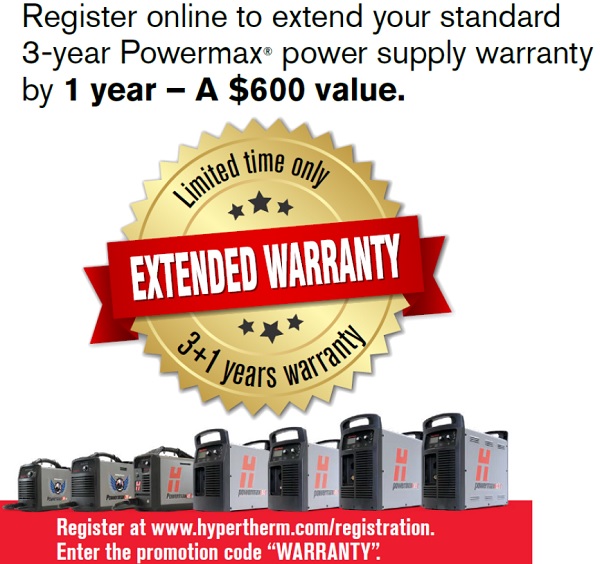 Terms and Conditions
The system must have been purchased on or after January 1, 2021
Promotion ends August 31, 2021
Only valid for Powermax power supplies purchased in U.S. and Canada
For full terms of the promotion please visit https://visit.hypertherm.com/extendedwarranty


Hypertherm Powermax 85 Handheld Plasma Cutter #087108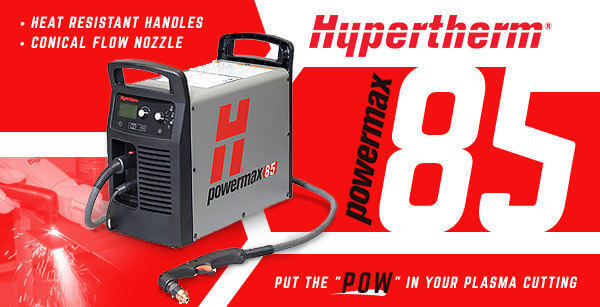 Hypertherm Powermax 85 plasma cutter has all the features and technology of the Powermax 65, but adds more power from an output current of 85 amps for clean, fast cuts on a wide range of electrically conductive metals, including 1" Mild Steel at 20 ipm. This package includes a 75° Duramax™ series hand torch with a 25 ft, lead. You can also customize your setup with other Duramax torches for a wider range of capabilities, including a 15° hand torch, a 180° Mini Machine Torch, and 45°, 90° or 180° robotic torches.

Welders Supply has the best prices on accessories for the Hypertherm Powermax 85
View other Powermax 85 accessories like a leather torch lead cover, electrodes, nozzles, swirl rings and more!
Key power supply advantages of mechanized Hypertherm Powermax 85
Smart Sense™ technology automatically adjusts the gas pressure according to cutting mode and torch lead length for optimal performance.
Boost Conditioner™ circuit (on CSA models) improves performance on low-line voltage, motor generators, and fluctuating input power.
FastConnect™ torches, optional CNC interface, and four work lead styles increase versatility for handheld and mechanized use.
Simplified control panel with LCD screen for easy operation.
Key torch advantages of Hypertherm Powermax 85
15° and 75° Duramax™ series hand torches enable operators to easily select the right tool for the job. The handle is more heat resistant and performs at least five times longer in high impact tests than previous torches.
Standard and short-barreled Duramax series machine torches allow a wide variety of mechanized applications with X-Y tables, track systems, pipe and robotic cutting systems.
Conical Flow™ nozzle increases arc energy density for superior cut quality with minimal dross.
Patent-pending shield reduces dross buildup and enables smoother drag cutting for a better cut.
To view a video of this machine:
Compare Hypertherm Powermax 85 plasma cutter vs 30xp, 45, 65, 105 and 125.
HYPERTHERM Powermax 85 CONSUMABLES AND KITS
Stock up on consumables with the Powermax 85 handheld consumable kit or Powermax 85 mechanized consumables kit.
Hypertherm Powermax 85 Specifications
Input voltages

200-480 V, 1-PH, 50/60 Hz
200-600 V, 3-PH, 50/60 Hz

Kilowatt output

12.2 kW

Input current @ 12.2 kW

200/208/240/480 V, 1-PH 70/68/58/29 A
200/208/240/480/600 V, 3-PH 42/40/35/18/17 A

Output current

25-85 A

Rated output voltage

143 VDC

Duty cycle @ 104° F

60% @ 85 A, 230-600 V, 3-PH
60% @ 85 A, 480 V, 1-PH
50% @ 85 A, 240 V, 1-PH
50% @ 85 A, 200-208 V, 3-PH
40% @ 85 A, 200-208 V, 1-PH
100% @ 66 A, 230-600 V, 1/3-PH

Open circuit voltage (OCV)

305 VDC

Dimensions with handles

D: 19.7"
W: 9.2"
H: 17.9"

Weight w/ 25' torch

32 kg (71 lbs)

Gas supply

Clean, dry, oil-free air or nitrogen

Recommended gas inlet flow rate/pressure

Cutting: 400 scfh, 6,7 scfm @ 85 psi
Gouging: 450 scfh, 7,5 scfm @70 psi

Input power cable length

10'

Power supply type

Inverter - IGBT

Engine drive requirement

20 kW for full 85 A output

Certifications

CSA-certified for use in the Americas and Asia, except China

Warranty

Power supplies have a 3-year warranty and torches a 1-year warranty
Hypertherm Powermax 85 Error Codes and Troubleshooting
Additional Powertherm 85 errors and fault codes
All Hypertherm Powermax plasma cutters
View literature of this machine:
Hypertherm Powermax 85 Plasma Cutter
Hypertherm Powermax 85 CNC cutting 1.25 inch steel
Hypertherm Powermax Demo (30, 45, 65, 85, 105)
Product Questions and Answers
---
Q - What is the severance rating?
A - 1.5" at 5 imp.
Q - What amperage should I use?
A - You should use a 100 amp circuit so that the 85 system isn't bogged down.
How to gouge a workpiece:
Prep torch.

Hold torch within 1/16" and 40°.

Start Pilot.

Press trigger to obtain pilot arc.

Transfer Arc.

Transfer arc to workpiece.

Stretch arc.

Pull torch back and stretch arc to 1 ¼".

Gouge workpiece.

Push the arc in desired direction.
Have a question about this product? Submit your question using the form below
People who bought this product were also interested in: