Deals on Miller Welders While Supplies Last
What's better than getting one of the most popular Miller welding helmets, safety gloves and exclusive Welders Supply merch? Getting them for free when you purchase a Miller welding machine from Welders Supply. When you buy one of the eligible machines below, you'll get all this plus free shipping on your purchase. Act now before supplies run out!
---
Our more popular Miller welding equipment includes:
Miller MIG Welding Machines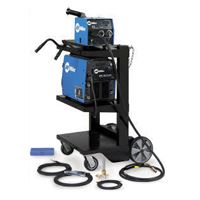 From its very first day, Miller Electric Manufacturing Company has provided innovative solutions to challenges confronting professional welders. The company is still doing it. Miller designs arc welding and plasma cutting equipment for manufacturing, fabrication, construction and aviation. Other markets served include motorsports, education, agriculture and marine applications.
Miller offers MIG welding equipment for both single-phase and three-phase input power. Single-Phase welding is typical in homes and garages (115 or 230 volts). Three-Phase welding systems are more common in industrial settings. Miller offers advanced Mig Systems for semi-automatic MIG applications as well as equipment for robotic automation.
Miller MIG Welders are always well-received by professional welders, especially the MIG Welder #907422 as well as newer products like the Millermatic 350P Pulsed MIG Welder (230/460/Volt) #907300, Millermatic 252 (208/230 Volt) #907321 or the Millermatic 212 Auto-Set (220 Volt) Wire Welder #907405.
Miller TIG Welding Machines
Miller TIG welders are extremely affordable, but it's not the whole story. They are also easy to set up, simple to operate, compactly designed, energy-efficient and offer great control of the arc and puddle. Three of Miller's Tig Welders will cut all metals including aluminum: the Diversion Series, Dynasty Series and Syncrowave. The fourth -- MaxStar -- is for steel or stainless steel alloys. It is DC-only.
Miller products are always top sellers at Welders Supply, especially the Miller Diversion 180 AC/DC TIG Welding Package Part #907627. The Miller Dynasty 350 AC/DC TIG Stick Water Cooled Package #951626 is especially popular. These are affordable, practical and high-performing products built for years of excellent service. They are easy to transport and will do whatever you want.
Miller Stick Welding Machines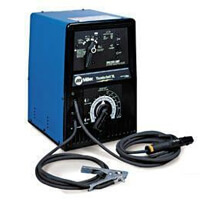 There are eleven different units offered by Miller, ranging in capabilities from light industrial, industrial to heavy industrial. Miller offers models many applications including education, maintenance & repair, farm and fabrication. Larger units are designed for heavy-duty applications with pipe, steel erection, shipbuilding and foundries.
Miller single phase stick welders include the Thunderbolt® XL 225 AC #903642 and Dialarc® 250 AC/DC. Single and three phase units are the CST™ 280 and the Miller XMT 350 #951327. Miller's three-phase units are the Gold Star® 652, the Dimension™ Series and the PipePro™ 450 RFC.
Miller Spot Welders
Miller is a world-class manufacturer of spot welders, offering a complete array of both symmetrical and asymmetrical tongs and tips. You get the most from spot welders with the shortest tongs. Miller tips are durable Class 2 copper alloy. Five tips are offered: two standard tong designs along with a standard tip, flat tip and offset tip.
Four different air-cooled spot welders are available. Miller's excellent selection includes the MSW-4, MSW-41T, LMSW-52 and the LMSW-52T. These units are flexible, fast and easy. The hand lever locks tongs firmly so there is always a positive, accurate fit-up. A wide variety of tongs and tips can be accommodated. You can quickly and easily adjust for material thickness. Miller units are simple to reconfigure for either left- or right-hand operation.
Miller Welders/Generators
Miller manufactures over twenty different welder/generators to prepare you for anything. Now you can have a welder to repair your welder! Miller Welder/Generators are always hot sellers because they are perfect for field equipment repairs, farm/ranch work, construction sites, power work in your garage or just to keep home essentials running during a blackout. Popular products at Welders Supply include the Miller Bobcat 250 AC/DC Engine Drive Welder Part #907500001, Miller Big Blue 800 Dup Pro Welder/Generator w/ ArcReach 907751, Miller Bobcat 250 with AC/DC Engine Drive Welder with EFI (Part #907502) and the Miller Trailblazer 275 (Part #907506001).
These are powerful, durable generators which are extremely well-built. Each has a three-year manufacturer's warranty. The engines are very fuel-efficient and have a huge12-gallon tank to assure longer run time.
NEW Bobcat Welders!
Miller recently released their brand new Bobcats. Check out the latest and greatest here:
Miller Guns & Torches
Miller Guns & Torches are well-designed and superbly manufactured to fit Miller, Millermatic and many other leading brands of welding equipment.
Wire Welding guns include Miller MIG Guns, Bernard MIG Guns, Flux-Cored Guns and the Bernard™ Fume Extraction Gun. Other wire welding guns are Spool Guns, Push-Pull Guns and Submerged Arc Torches. The Miller Weldcraft Torch is for Tig welding. Metal cutting torches from Miller are Plasma Cutting Torches and Oxy-Fuel Torches.
At Welders Supply, some very popular Miller Mig guns are the Roughneck® C-Series . These industrial-grade guns are compatible with all Millermatics and current Miller wire feeders. You can also use them with most other major brands. The Migmatic™ M-Series welding guns are ideal for Miller integrated MIG packages as well as other Miller wire feeders.
These guns & torches keep you operating at top efficiency. You'll get the best high performance and the best low prices at Welders Supply.
Miller Helmets & Welding Protection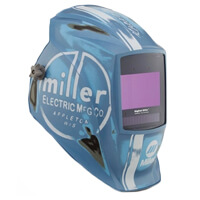 Miller protective helmets, safety glasses and protective welding apparel give all-day protection and all-day comfort. Ergonomic, lightweight design keeps you fresh even during long welding periods. Field of vision is always wide and clear. You'll stay safer and breathe easier.
Auto-darkening lenses are available for added protection and convenience. Safety glasses come with lenses which are clear, smoked, shade 3.0 or shade 5.0.
Miller protective apparel has earned an outstanding worldwide reputation for excellent protection, comfort and attractiveness. A full range of effective, affordable protective apparel is offered. They are easy to adjust for a perfect fit. You'll wear them with comfort, style and performance. Enhanced safety will always make your work environment more productive.
Safety is always a sound investment. The low online prices at Welders Supply make safety much more affordable.
Miller Workstations
The ArcStation has been expertly designed with the welder in mind. It is the first workstation specifically manufactured to meet the needs of professional welders looking for welding workbenches and welding tables.
A full line of accessories is available which are easy to install and remove, easy to use and simple to store. An especially hot seller at Welders Supply is the Miller Protective Cover #300919. It's a great way to keep your machine clean while in storage or transit.
You can buy the specific accessories for your ArcStation to set up your best customized worksite. The ArcStation will give you the best for your welding and the most for your money. At Welders Supply, you get the lowest online prices for products you need - like welding table clamps!
Lowest Prices and Free Shipping on Orders Over $300
Besides the lowest possible prices on Miller products, Welders Supply offers free shipping within the continental US on all orders totaling over $300. Ready, set, shop!
Shop all of our top quality brands of welding equipment from Miller, Tillman, Hobart and more!