Miller Used Welders and Equipment

SORT BY
Miller Used Welders For Sale Offer Great Potential at a Great Price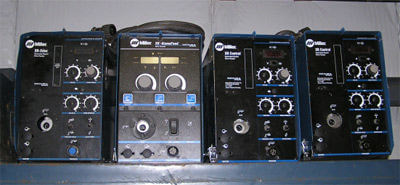 When it comes to welding machines, good performance doesn't have to come at a high price. Pre-owned equipment like our used Miller machinery delivers excellent performance at an affordable cost. Authorized Service Technicians at Welders Supply evaluate every used Miller welder we offer to make sure it delivers the performance you expect and deserve. Maximize your productivity at the lowest cost possible with a used Miller welder. Contact Welders Supply today.
Experience industry-leading reliability and quality without the depreciation and high cost. Our used Miller machines are ready to work. The price is right and so is the performance.
Miller XR-Aluma-Pro is Ready to Work
The used Miller XR-Aluma-Pro Plus 15' offers higher amperage capacity and the best feeding performance. Reduce service time and fatigue with this used Miller machinery. Our Authorized Service Technicians will assure the quality of this machine before shipping. Call with questions – but don't wait too long.
View all Miller Welding Products.
Miller Used S-74 Feeder Performs Well and Priced Right
Our used Miller S-74 DX Feeder operates on a duel schedule, allowing two welding parameters to be used without switching. Eliminate downtime and enhance the quality of your work. Welders Supply has had this machine checked out by our Authorized Service Technician.
When you buy from Welders Supply, you can be confident you're receiving a high-performance machine at a low cost. Shop our current promotions on Miller products.