Miller Used Welders and Equipment
3 items found

SORT BY
MIL USED XR-ALUMA-PRO PLUS 15' #U300000001
$800.00
$1,968.00

*
You Save
$1,168.00

Add to Cart
Product Number: U300000001
Miller Used S-74 DX FEEDER #300618
$2,270.00
$3,170.00

*
You Save
$900.00

Add to Cart
Product Number: 300618U
Used Miller Cylinder Cart #042537U
$600.00
$762.00

*
You Save
$162.00

Add to Cart
Product Number: 042537U
Miller Used Welders And Equipment Offer Great Potential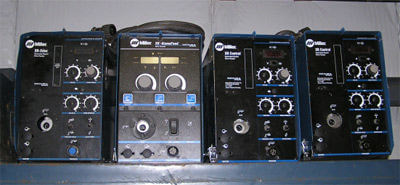 Good performance doesn't have to come with a high price. Pre-owned equipment like these excellent Miller machines can deliver excellent performance at a very affordable cost. Authorized Service Technicians at Welders Supply check them out to make sure they deliver the performance you expect and deserve. If you have a pressing need for items like this, here is your chance to make a lot of progress for little money. Call Welders Supply today.
These machines are ready to work. The price is right and so is the performance. Consider this with the same perspective you have when you think about buying a new car. Who needs the depreciation? Who wants the high price? Isn't performance what you're looking for? It's the same with these machines. You're going to get them for an incredibly low price. You'll also be getting peak performance needed to maximize your productivity at the lowest possible cost. If it's what you're looking for, here it is!
Miller Dialrc 250HF Single Phase Tig/Stick Welder Is Ready To Work
Used Miller Dialarc 250HF AC/DC single phase Tig/stick welder. A local trade with very low hours on the machine. Was used in a clean industrial setting and will be checked out by our service tech prior to shipping. Call with questions - but don't wait too long.
View all Miller Welding Products.
Miller S32P8 Feeder Performs Well And Priced Right
This is a used Miller 24 Volt Feeder with a 14-pin plug. This feeder is made to run 10# spools of all types of welding wire. Welders Supply has had this machine checked out by our Authorized Service Techician.
The prices at Welders Supply are always low. The prices for these excellent Miller machines are downright subterranean.