Share

Print
CALL or CHAT

for more options
Limited Time Offer: Receive additional 1 year extended warranty on Powermax Systems purchased now through August 31, 2021 ($600 Value) – go to www.hypertherm.com/registration to register your product and enter promotion code "WARRANTY"
CALL or CHAT

for more options

Hypertherm Powermax 45 XP 3-Phase Hand System W/O CPC - 20' Leads #088126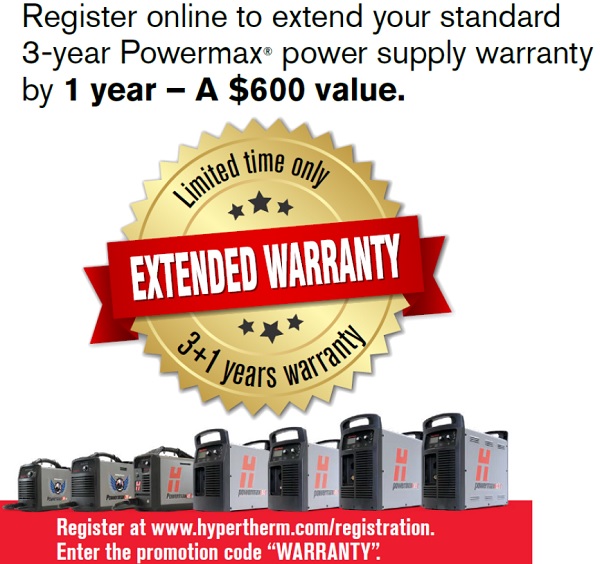 Terms and Conditions
The system must have been purchased on or after January 1, 2021
Promotion ends August 31, 2021
Only valid for Powermax power supplies purchased in U.S. and Canada
For full terms of the promotion please visit https://visit.hypertherm.com/extendedwarranty
Easy-to-use with Versatile Design
Small size and light weight provides exceptional portability for a 5/8" rated cutting system
Handheld and mechanized usage with CNC interface and FastConnect torch connection
Patented drag-cutting technology makes it easy to use – even for first-time operators
Tackle different jobs with multiple, easy-to-use torch styles
No need to change the air pressure. Smart Sense technology ensures that it is always correctly set
Mark, score and make precision gouges with new low amp process
Maximum Productivity
Finish jobs faster with cut speeds one and a half times greater than oxyfuel on 1/4" mild steel
Spend less time on grinding and edge preparation due to superior cut and gouge quality
Fast change out of consumables using the new torch disable switch feature

Rugged and Reliable
Duramax Lock torches are designed for high-impact and heat resistance
SpringStart technology ensures consistent starting and a more reliable torch
Hypertherm Certified reliability ensures performance in the most demanding environment

Common Applications
Property/Plant Maintenance
Fire and Rescue
General Fabrication
HVAC and Mechanical Contracting
Educational Institutions
Agricultural and Farm Equipment Maintenance
Input voltages
(± 10%)
CSA
200 – 240 V, 1-PH, 50-60 Hz
OR
480 V, 3-PH, 50-60 Hz1
CE/CCC
230 V, 1-PH, 50-60 Hz
OR
400 V, 3-PH, 50-60 Hz
Input current
@ 6.5 kW
CSA
200 - 240 V, 1-PH, 39/32 A
OR
480 V, 3-PH, 9.4 A1
CE/CCC
230 V, 1-PH, 33 A
OR
400 V, 3-PH, 10 A
Output current
10–45 A
Rated output voltage
145 VDC
Duty cycle
@ 40° C (104° F)
CSA

50% @ 45 A, 200 – 240 V, 1-PH
60% @ 41 A, 200 – 240 V, 1-PH
100% @ 32 A, 200 – 240 V, 1-PH
50% @ 45 A, 480 V, 3-PH
60% @ 41 A, 480 V, 3-PH
100% @ 32 A, 480 V, 3-PH

CE/CCC
50% @ 45 A, 230 V, 1-PH
60% @ 41 A, 230 V, 1-PH
100% @ 32 A, 230 V, 1-PH
50% @ 45 A, 400 V, 3-PH
60% @ 41 A, 400 V, 3-PH
100% @ 32 A, 400 V, 3-PH
Open circuit voltage (OCV)
275 VDC (200 - 240 V, CSA/CE/CCC and 480 V, CSA)
265 VDC (400 V CE/CCC)
Dimensions with handles
442 mm (17.4") D; 173 mm (6.8") W; 357 mm (14.1") H
Weight with 6.1 m (20') torch
CSA
14 kg (31 lbs.)
CE/CCC
15 kg (33 lbs.)
Gas supply
Cutting: air (clean, dry and oil-free), nitrogen, F5
Gouging: air (clean, dry and oil-free), nitrogen, F5
Marking: air (clean dry and oil-free) argon
Recommended
gas inlet
flow rate / pressure
188 I/min (400 scfh) @ 5,9 bar (90 psi)
Input power cable length
3 m (10')
Power supply type
Inverter – IGBT
Engine drive requirement
12.5 kVA (10 kW) for full 45 A output
Electrical efficiency
88%
Recyclability
100%
Capacity
Thickness
Cut speed
Cutting
Recommended
16 mm (5/8")
22 mm (7/8")
500 mm/min (20 ipm)
250 mm/min (10 ipm)
Severance (hand cutting)
29 mm (1-1/8")
125 mm/min (5 ipm)
Pierce*
12 mm (1/2")
* Pierce rating for handheld use or with automatic torch height control
Capacity
Metal removal rate
Groove profile
Gouging
Typical gouge
3,4 kg (7.5 lbs.) per hour
3,2 mm (.12") D x 6,8 mm (.26") W
Warranty
Power supply: 3-year
Torch: 1-year
SHIPPING DIMENSIONS

Height:
15.00 Inches
Width:
7.00 Inches
Length:
17.50 Inches
Weight:
32 Lb(s) 0 Oz
Hypertherm Powermax45 XP put to the test
Hypertherm Powermax45 XP CNC Review
Product Questions and Answers
---
Q - What is the gouge capacity for this?
A - 7.5 lbs per hour with a groove profile of .12" D by .26" W
Q - Can a CPC be added later?
A - Yes, but if you're thinking you'll need that capability you should consider the Powermax 45 XP 088122 that comes with the CPC.
Have a question about this product? Submit your question using the form below
People who bought this product were also interested in: