Share

Print
$2,470.00
$2,800.00
Reduced Price
You Save
$330.00

Which Hypertherm Powermax 45XP is right for me?
Hypertherm Powermax 45 XP #088117 Machine System CPC 35' w/ Remote On/Off


Powermax 45 XP: Redefining What A Portable Plasma Cutter Machine Can Do
Hypertherm's Powermax 45 was one of the most popular portable plasma cutters ever offered at Welders Supply, and for good reason. Now, Hypertherm has upped the ante with the Powermax 45 XP. More power, more innovative features and more flexibility make the 45 XP the new champ of portable plasma cutters. If you're looking for a versatile, powerful and portable workhorse that integrates seamlessly to CNC machines and is capable of 5/8" cuts, as well as gouging and marking, put the Powermax 45 XP on your short list.
Powermax 45 XP At A Glance
5/8" (16mm) rated cutting capability (mild steel, stainless steel, aluminum)
Duramax® Lock torch with disable switch for fast and easy replacement of consumables.
CNC interface and FastConnect™ torch connection for both mechanized and handheld operation
Smart Sense™ automatically monitors and adjusts air pressure for maximum performance
Consumables available for fine feature cutting, extended reach cutting, gouging, precision gouging, marking
A Cut Above The Competition
Besides increased cut capacity over it's predecessor and faster cut speeds, the Powermax 45 XP is 70% more powerful than comparable systems from the competition. Equipped with a CPC port with a 5-position selectable voltage divider card, integration with CNC machines has never been easier. With cut speeds one-and-a-half times faster than oxyfuel (on ¼" mild steel), the 45 XP powers through jobs fast—and the cuts and gouges are so good you won't have to waste time grinding and prepping the edges.
What sets the Powermax 45 XP apart from the Powermax 45?
| | | |
| --- | --- | --- |
| | Powermax 45 | Powermax 45 XP |
| Output current | 20-45 | 10-45 |
| kW output @max power | 5.95 | 6.5 |
| Cut capacity | ½" (12mm) | 5/8" (16mm) |
| Severance | 1" (25mm) | 1 1/8" (29mm) |
| Auto gas adjustment | no | yes |
| Easily accessed, protected air filter regulator | no | yes |
| Number of torch options | 2 | 11 |
| Consumables styles | 4 | 7 |
| Machine interface options | standard CPC port | Optional CPC port with 5 position selectable voltage divider card or serial port via RS-485 communication |
| F5 gas operation | no | yes |
| Precision gouging capability | no | yes |
Included With This Machine Package (#088117):
This package includes the Powermax 45 XP CSA Machine System with CPC Port, 35 ft (10.7) leads, and remote on/off switch. All components in this package are fully backed by Hypertherm's 3-year warranty (Powermax) and 1-year coverage on torch and lead.
HYPERTHERM Powermax 45 CONSUMABLES AND KITS
Stock up on consumables with the Powermax 45 handheld CSA consumable kit or Powermax 45 XP essential handheld consumables kit.

View all Hypertherm Powermax Plasma Cutters
Input voltages
(± 10%)

CSA

200 – 240 V, 1-PH, 50-60 Hz
480 V, 3-PH, 50-60 Hz

CE/CCC

230 V, 1-PH, 50-60 Hz
400 V, 3-PH, 50-60 Hz

Input Current @ 5.95 kW

CSA

200/240 V, 1-PH, 39/32 A
480 V, 3-PH, 9.4 A

CE

230 V, 1-PH, 33 A
400 V, 3-PH, 10 A

Output current

10 - 45 A

Rated output voltage

145 VDC

Duty cycle @ 40°C (104°F)

CSA

50% @ 45 A, 200 – 240 V, 1-PH
60% @ 41 A, 200 – 240 V, 1-PH
100% @ 32 A, 200 – 240 V, 1-PH
50% @ 45 A, 480 V, 3-PH
60% @ 41 A, 480 V, 3-PH
100% @ 32 A, 480 V, 3-PH

CE/CCC

50% @ 45 A, 230 V, 1-PH
60% @ 41 A, 230 V, 1-PH
100% @ 32 A, 230 V, 1-PH
50 % @ 45 A, 400 V, 3-PH
60% @ 41 A, 400 V, 3-PH
100% @32 A, 400 V, 3-PH

Open circuit voltage (OCV)

275 VDC (200-240 V, CSA/CE/CCC and 480 V, CSA)
265 VDC (400 V CE/CCC)

Dimensions with handles

442 mm (17.4") D; 173 mm (6.75") W;
357 mm (14.1") H

Weight with 6.1 m (20') torch

CSA

14 kg (31 lbs)

CE

15 kg (33 lbs)

Gas Supply

Cutting: air (clean, dry and oil-free), nitrogen, F5
Gouging: air (clean, dry and oil-free), nitrogen, F5
Marking: air (clean, dry and oil-free), argon

Recommended gas inlet
flow rate / pressure

188 l/min (400 scfh; 6 scfm) @ 90 psi (5.9 bar)

Input power cable length

3 m (10')

Power supply type

Inverter - IGBT

Engine drive requirement
12.5 kVA (10kW) for full 45 A output
Electrical efficiency
88%
Recyclability
100%
Certifications
CSA certified for use in Americas and Asia, except China. CCC for use in China. CE, REM, GOST-TR, ukrSEPRO, and Serbian AAA for use in Europe, Austrailia, Belarus, Kazakhstan, Russia, Serbia, Ukraine, and other countries where accepted
Warranty

Power supply: 3-year
Torch: 1-year
Hypertherm Powermax 45 XP Error Codes and Troubleshooting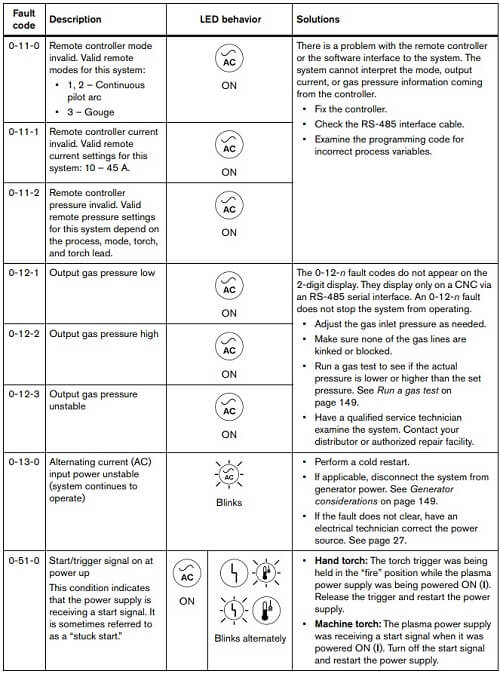 Additional Error Codes and Troubleshooting for the Powermax 45 XP
Hypertherm Powermax 45 XP Setup
Hypertherm Powermax 45 XP First Look
Hypertherm Powermax 45 XP Marking & Gouging
---
Have a question about this product? Submit your question using the form below
People who bought this product were also interested in: