Share

Print
$6,799.00
$7,851.00
Reduced Price
You Save
$1,052.00

Worldwide manufacturer shortages are impacting delivery times. Lead times are more variable than other websites imply. We are a top distributor for Miller Welding; nobody will get you this faster. Call 1-844-682-0205.

ADD TO CART
Financing
AVAILABLE!


The Millermatic 350P Pulsed Mig Welder #907300

The Millermatic 350P Pulsed MIG Welder will take your welding to the next level. It is Miller's most affordable MIG welder, and it's also the easiest to set up. This MIG wire welding machine has a 60% duty cycle and is rated at 300 amps. It has enough welding power for nearly all welding professionals. And Miller backs it with a generous 3-year warranty.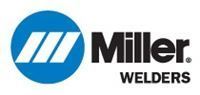 The Millermatic 350P wire welder will weld up to 1/2 inch material. This makes it a perfect choice for the fabricator who needs to improve weld quality and efficiency. By switching to Pulsed-MIG welding, you can improve productivity by 30, 50, or even 100%, while also saving a lot of money.
Try these accessories with your new Millermatic 350P Pulsed MIG Welder
The Millermatic 350P Pulsed Mig Welder Features:
Aluminum Pulse Hot Start – Automatically provides more arc power, eliminating the "cold start" typically inherent with aluminum starts.
SharpArc – Optimizes the size and shape of the arc cone, bead width, appearance, and puddle fluidity.
Line Voltage Compensation (LVC) – Keeps output of the power source constant regardless of fluctuation in the input power +/- 10%.
Gun-On-Demand – Allows you to use either a standard MIG gun, a Spoolmatic 15/30A spool gun, or any other Miller push-pull gun without flipping the switch. The welding machine automatically senses which gun you are using when you pull the trigger.
Fan-On-Demand Cooling System- Only operates when needed, reducing the power consumption and keeping the internal components cleaner to provide less maintenance needs.
Applications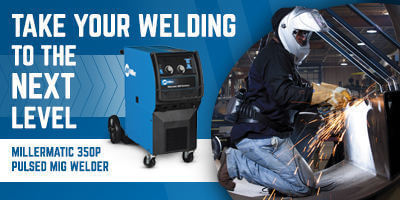 Aluminum Welding
Fabrication
Farm and Ranch
Field Maintenance and Repair
Manufacturing
Schools/Training
You're sure to love the Millermatic 350P, and Welder Supply Company offers it for the best price on the web!
General Specifications

Input Power
Requires 1- or 3-Phase power
Rated Output
300 Amps at 32 VDC, 60% duty cycle, 1- or 3-Phase
Welding Amperage Range
25 - 400 Amps
Wire Speed
50 - 700 IPM (1.3 - 17.8 m/min)
Net Weight
181 lb (82 kg)
Wire Diameter
Capacity
.023 - .045 in (0.6 - 1.2 mm) Solid Steel
.030 - .045 in (0.8 - 1.2 mm) Stainless
.035 - .047 in (0.9 - 1.2 mm) Aluminum
.035 - .052 in (0.9 - 1.3 mm) Metal-Core
.030 - .052 in (0.8 - 1.3 mm) Flux Cored
MaxSpoolSize Capacity
12 in (305 mm)
SHIPPING DIMENSIONS

Height:
38.00 Inches
Width:
21.00 Inches
Length:
42.00 Inches
Weight:
215 Lb(s) 0 Oz
Product Questions and Answers
---
Q - Does the Millermatic 350P come with an outlet to power shop tools?
A - No, the Millermatic 350P does not have an outlet on it.
Q - What is the advantage of MIG Pulse welding vs conventional?
A - Pulse welding turns the arc on and off so fast you can't see it happening. By doing this, it's easier to control how much heat is in the weld puddle and how much weld material is being deposited--especially on thin metals.
Q - What is the amperage range?
A - 25 to 400 A
Q - What MIG gun does this come with?
A - A Bernard Q300 MIG gun with extra Centerfire contact tips.
Q - Can the Millermatic 350P pulse both steel and aluminum?
A - Yes, steel, stainless steel, and aluminum can be pulsed with the Millermatic 350P.
Have a question about this product? Submit your question using the form below
People who bought this product were also interested in: