Miller Welding Machine Bundle Deals
In addition to free shipping, each of the welding machines below comes with SIX FREEBIES at no extra cost. Show off your welding pride with a free Welders Supply t-shirt, sticker and magnetic cupholder, stay safe with a free pair welding gloves from Revco and extend your consumable lifespans with our anti-spatter welding spray.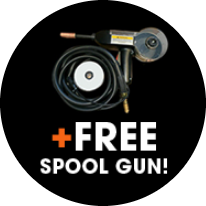 ---
Our more popular Miller welding machines include:
Miller Designs And Manufactures Superb Arc Welding And Cutting Equipment
Miller Provides MIG Systems, TIG Systems and Stick Welders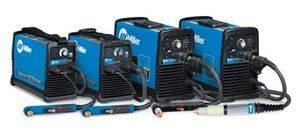 Miller Electric Manufacturing Company makes advanced MIG Systems for semi-automatic MIG welding applications as well as equipment for robotic automation. Miller MIG Welders are highly regarded, especially newer models like the Millermatic 350P Pulsed MIG Welder and Millermatic 211 Auto-Set.
Miller TIG Welders are extremely affordable, easy to set up, simple to operate and offer great control of the arc and puddle. Miller products are always top sellers at Welders Supply, especially the Miller Diversion 180 AC/DC TIG Welding Package.
Miller single phase stick welders include the Thunderbolt® XL 225/150 AC/DC. Single and three phase units are the Maxstar® 200 STR, CST&trae; 280 and the XMT® Series. Miller's three-phase units are the Gold Star® 652, the Dimension™ Series and the PipePro™ 450 RFC.
Miller Plasma Cutters and Welder/Generators Are Reliable and Accurate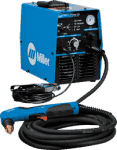 Miller Plasma cutters are dependable, durable and accurate. The Miller single-phase plasma cutters include the Spectrum® 125C and Spectrum® 375. Miller is a world-class manufacturer of spot welders, including the MSW-4, MSW-41T and the LMSW-52.
Miller manufactures over twenty different welder/generators, including the Miller Bobcat 260 with Remote Start/Stop and the Miller Trailblazer 275. The company's guns and torches are well-designed and superbly manufactured. Its protective helmets, safety glasses and protective welding apparel give all-day protection and all-day comfort.
The ArcStation series workbenches from Miller are the first workstations specifically manufactured to meet the needs of professional welders and metal workers. Brilliant features like an X-pattern tabletop (SX models) allow for hassle-free clamping, and adjustable leveling feet make it easy to level the table for a rock-steady welding platform.
NEW Bobcat Welders!
Miller recently released their new Bobcats. Check out the latest and greatest here:
Powerful Bobcat welders like the Miller Bobcat 260 EFI with Remote Start/Stop 907793 are popular among our welding community.
Lowest Prices Online and Free Shipping on Orders Over $300
Welders Supply has the best prices on Miller welding systems, and we offer free shipping anywhere within the continental US on orders over $300. Shop around all you want, but no one beats Welders Supply.
Welders Supply offers a full range of Miller welding products and supplies to meet the needs of all professional welders.