Miller Trailblazer 330 EFI, Battery Charger w/ Excel Power & WIC Remote #907832004
Reliable engine-driven welders with unbeatable arc performance, providing the smoothest, most stable arc in the industry. Trailblazer exclusive technologies — advanced Auto-Speed™ and optional Excel™ power — deliver superior runtimes, increase fuel efficiency, and improve engine-driven welder performance. No other compact machine in the 300-amp class delivers more welding power or more auxiliary power with better fuel efficiency and less noise — for productive, profitable, quieter job sites.
Battery Charge/Jump Start
Reduce downtime with battery charge/crank assist capability. Designed and recommended for mechanics or anyone else responsible for a fleet of trucks or equipment. By using your Trailblazer to charge dead batteries or jump a stubborn engine, you'll keep your crew working and the fleet up and running.
Excel™ Power

Unlike competitive machines that provide auxiliary power only at 3,600 rpm (max), Excel power delivers a full 2,400 watts (20A) of 120V inverter-based, pure sine wave power at idle. With Excel power, you can operate jobsite tools like grinders and lights at a quieter, fuel-saving engine speed.
Refueling time and operating costs are reduced with Excel power, which means more productivity and profitability. Plus, everyone on the jobsite gets a better working environment because noise levels and exhaust emissions are lowered.
Try It For Yourself! Launch Miller's Trailblazer 330 Simulator
---
Applications:
Fabrication
Maintenance Repair
Structural Steel Work
Sheet Metal
Pipe
What's Included:
Trailblazer welder/generator #907831
Not included:

Weld Leads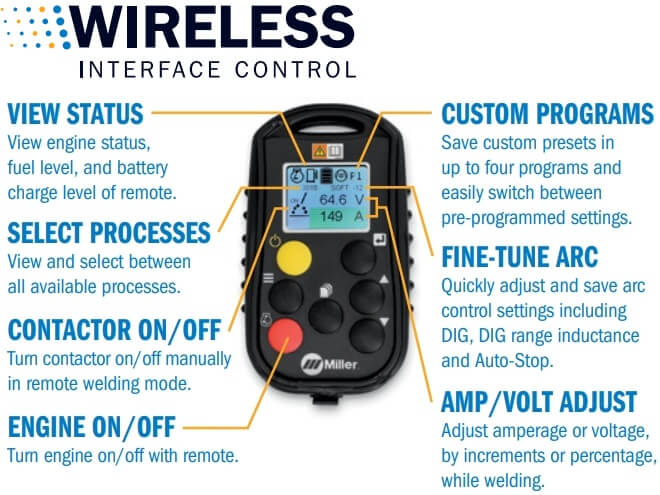 Full control in the palm of your hand
---
Features

of the Trailblazer 330 #907832004:

As with the previous model 211, the updated model has a Multi-Voltage Plug (MVP) that allows you to connect to either 120 or 230 V power receptacles without the use of any tools.
Intuitive digital interface with Auto-Set™

makes it quick and easy to precisely set weld parameters for any process.
Lighter and Smaller

- The Trailblazer 330 weighs less than any other engine-driven welder in its class. It's over 80 pounds lighter and 13% smaller than previous models, so it's easier to move and takes up less space on trucks.
Advanced Auto-Speed™

technology automatically varies engine speed from 1,800–3,600 rpm to match weld demands — reducing fuel consumption, maintenance costs and noise for a safer, more efficient jobsite.
Predictive Maintenance
Direct Connect Spool Gun Connection
ArcReach®

for parameter control at the wire feeder or pendant without needing a control cord.
Dynamic DIG™

to optimize arc control for stick welding applications.
Pulsed TIG with QuitePulse™ creates a slower, more fluid transition between background and peak amperage.
Excel™ Power delivers a full 2,400 watts (20 A) of 120-volt inverter-based, pure sine wave power at all speeds, including idle.
Battery charge/crank assist to reduce downtime on 12/24-volt batteries
Wireless Interface Control so you get full control of your machine in the palm of your hand, from wherever you are on the jobsite, so you can work hassle free.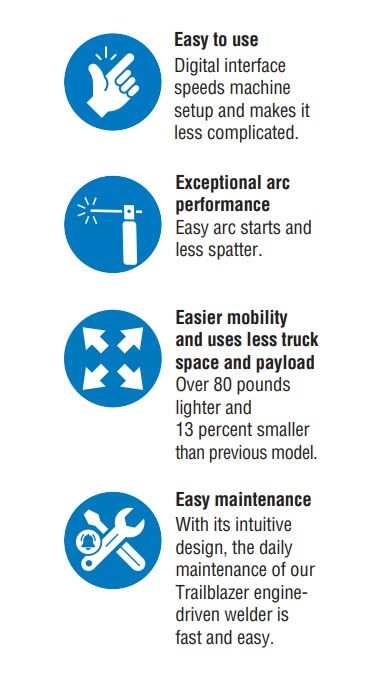 Shop Welders Supply for the best prices on MIG, TIG, Stick and Gas welders from Miller

& other top brands.
Miller Trailblazer 330 Specifications

Welding Mode
CC/DC
CV/DC
Process
Stick/TIG
MIG/FCAW
Battery charge/ crank assist (optional)
Amp/Volt Ranges
20 - 330 A
15-40 V
12/24 V
Rated Weld Output at 104° F (40° C)
330 A at 30 V, 100% duty cycle
325 A at 30.25 V, 100% duty cycle
Charge: 150 A,

Crank assist: 300 A
Single-Phase Auxiliary Power
Peak
12,000 watts
Continuous
10,500 watts
Excel™ power (optional)
2,400 watts, 20 A at 120 V,
60 Hz pure auxiliary power at
idle speed and while welding
Sound Levels at 23 ft (7 m)
Weld
150 A load: 65 dB (90 Lwa)
330 A load: 73.5 dB (98.5 Lwa)
Auxiliary power
Excel power: 65 dB (90 Lwa)
12 kW standard power:
73.5 dB (98.5 Lwa)
SHIPPING DIMENSIONS

Height:
27.00 Inches
Width:
21.00 Inches
Length:
38.00 Inches
Weight:
449 Lb(s) 8 Oz
Product Questions and Answers
Have a question about this product? Submit your question using the form below
People who bought this product were also interested in: