Hypertherm Plasma Cutters (Powermax)
Shop Used
Hypertherm Powermax Plasma Cutters
Hypertherm plasma cutters offer unmatched performance and reliability. Compare Powermax 30xp vs 45 vs 65 vs 85 vs PMX85 vs 105 vs 125 to find the right machine for you. Welders Supply offers variations of these plasma cutters—get a handheld or mechanized Duramax torch with the right lead length, along with all the Hypertherm consumables and accessories you could possibly need. With worldwide shipping, FREE shipping in the U.S. (except Alaska and Hawaii) for orders over $300, and the lowest prices on these top-of-the-line plasma cutting machines, Welders Supply is the Hypertherm dealer with the best deals on Powermax plasma cutters and supplies.
Some of our more popular Hypertherm plasma equipment includes:
Hypertherm Plasma Cutters Improve Productivity and Profits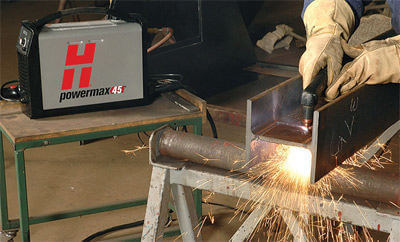 Hypertherm's cutting edge line of plasma cutters cut through just about anything. Naturally, Welders Supply cuts the price to help all of our professional welding customers. A Powermax Plasma Cutter from Hypertherm is your sure path to more profits.
Hypertherm was first to inject water into a plasma cutting nozzle for a narrower arc. Plasma cutting suddenly became easier and more economical. Welders didn't have to buy different gases. Nozzle life was longer with water cooling the nozzle.
Today—and over a hundred patents later—Hypertherm is still helping you "cut with confidence," improve cut quality, extend service life, boost productivity, and lower operating costs. Your Hypertherm dealers at Welders Supply are still improving our low online prices for Hypertherm Plasma Cutters!
Hypertherm Powermax 30xp vs 45 vs 65 vs 85 vs PMX85 vs 105 vs 125
Now that we've got your attention, let's compare the different Powermax models. The table below provides a simple visual representation of, say, the Powermax 45 vs Powermax 65 or the differences between Powermax 105 and 125. The table helps our customers choose the perfect Powermax model for their needs, and makes deciding which one a breeze.
Product
30XP
45XP
65
85
105
125
Variations
Plasma System
25ft hand Torch
25ft Hand System
With CPC Port
Plasma Cutter
50ft Hand Torch
50ft Hand System
Price
$
$$
$$$
$$$$
$$$$$
$$$$$$
Piercing Capacity
Up to 5/8"
5/8"
5/8"
3/4"
7/8"
1"
Output Current
15-30A
10–45A
20–65A
25–85A
30–105A
30–125A
Duty Cycle*

20% 120V

80%
80%
80%
80%
100% @ 125A

35% 240V

80%
80%
80%
80%
100% @ 125A
Weight
21 lbs
31 lbs (20' torch)
64 lbs (25' torch)
71 lbs (25' torch)
100 lbs (25' torch)
106 lbs (25' torch)
Power Supply
IGBT Inverter
IGBT Inverter
IGBT Inverter
IGBT Inverter
IGBT Inverter
IGBT Inverter
*This is a generalized number. Below are the full specs for duty cycles by model at 104°F, except for 30XP which is properly reflected in the table.
Powermax 45XP
50% @ 45 A, 200–240 V, 1PH
60% @ 41 A, 200–240 V, 1PH
100% @ 32 A, 200–240 V, 1PH
50% @ 45 A, 480 V, 3PH
60% @ 41 A, 480 V, 3PH
100% @ 32 A, 480 V, 3PH
Powermax 65
50% @ 65 A, 230–600 V, 1/3PH
40% @ 65 A, 200–208 V, 1/3PH
100% @ 46 A, 230–600 V, 1/3PH
Powermax 85
60% @ 85 A, 230–600 V, 3PH
60% @ 85 A, 480 V, 1PH
50% @ 85 A 240 V, 1PH
50% @ 85 A, 200–208 V, 3PH
40% @ 85 A, 200–208 V, 1PH
100% @ 66 A, 230–600 V, 1/3PH
Powermax 105
70% @ 105 A, 240 V, 3PH
80% @ 105 A, 480–600 V, 3PH
100% @ 94 A, 480–600 V, 3PH
100% @ 88 A, 240 V, 3PH
Powermax 125
100% @ 125 A, 480/600 V, 3PH
See Also: Hypertherm Powermax 30 AIR (with built in compressor)
Powermax Plasma Cutters Are Fast, Effective and Flexible
Powermax from Hypertherm offers versatile and portable air plasma systems for hand or automated cutting. They'll effectively gouge any electrically conductive metal. Powermax units deliver cut capacities from 5/8" at 30A up to 2 1/4" at 125A. Using Powermax Systems gets work done faster, better and easier with less cost and more dependability.
Hypertherm invests heavily in product engineering to keep on the cutting edge of technology. The latest technological breakthroughs are always designed into new Powermax Air Plasma Systems. It's why buying Hypertherm machines is always a good investment. Powermax systems are available with a 20-foot hand torch, 50-foot hand torch or a 25-foot mechanized torch.
Even beginners can easily operate a Powermax System. The plasma arc is dependable and stable. You'll do excellent work much faster and more profitably. Consumables will last longer to further reduce costs. Even under harsh work conditions, these units are dependable, long-lasting and enable you to do quality work.
Hypertherm Powermax Dealer: Get the Best Prices on Plasma Cutters and Accessories from Welders Supply
No Hypertherm dealer near you? No worries. Welders Supply ships all over the world. Get the plasma cutting machines and supplies you need whether you're in the U.S., Canada, Mexico, or on the other side of the globe:
U.K.
Netherlands
U.A.E.
India
Japan
Australia
Indonesia
Or anywhere else!
Contact Welders Supply for the best online prices on quality welding products and supplies from Hypertherm and other great manufacturers.