Share

Print
$1,855.00
$2,351.00
Reduced Price
You Save
$496.00
CALL or CHAT

for more options

CALL or CHAT

for more options
Add item to cart for

People who bought this product were also interested in:
Other Versions:
907711001 - Maxstar 161 STH 120-240 V w/X-Case Fingertip Contractor Package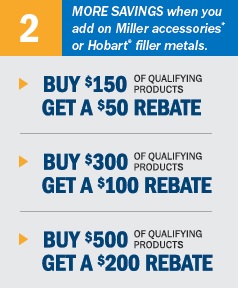 Miller Maxstar® 161 STH #907711 120-240 V
Miller TIG Welders and Stick Packages
Welder's Supply is a proud provider of Miller welders and accessories. Miller, often considered to be an industry giant in the welding world, is a manufacturer of top-notch TIG welders that boast high levels of dependability and performance. We offer a wide variety of Miller TIG welding packages depending on your welding needs, and we are guaranteed to have a setup that best fits you.
Miller Maxstar welding #907711 set includes:
Maxstar 161 STH
6.5 ft. (2 m.) primary cords for 120 V and 240 V
13 ft. (4 m.) stick electrode holder with 25 mm. Dinse-style connector
10 ft. (3 m.) work clamp with 25 mm. Dinse-style connector
Adjustable handle/shoulder strap
This is a basic, yet simple Maxstar 161 TIG welding kit with everything you need to get started. Looking for a more inclusive Miller welding package? Be sure to check out our full line of Maxstar 161 TIG welding packages and Miller welding accessories.
Portable Welder Supplies and Welding Gear
The Maxstar 161 STH TIG welder completely eliminates the need for an annoying gas valve, and can easily connect to any standard 120 or 240 volt receptacle without the need for any additional attachments or tools. Because you can reduce the amount of heat involved, the 161 is also great for welding delicate thin metals that can often be prone to extreme warpage. The 161 welder is lightweight, features a compact, easy to transport design, and is great for both professional contractors and amateur welders alike.
Maxstar 161 STH Part #907711 Specifications:

Input Voltage Options
110/115/120 V
220/230/240 V
Input Hz Range
50 / 60 Hz
Input Phase
1-phase
Current Type
DC
Weld Output
CC
Maximum Open Current Voltage
48 VDC
Material Thickness
0.02 in. (0.5 mm) - .1875 in. (4.8 mm)
Weldable Metals
Steel
Stainless Steel
Processes
Stick (SMAW) Lift-Arc™
TIG (GTAW)
High-frequency TIG (GTAW)
Pulsed TIG (GTAW-P)
Process Specifications
Stick (SMAW) Lift-Arc™
TIG (GTAW)
Welding Amperage Range
120 V: 5–130 A
240 V: 5–160 A
120 V: 20–90 A
240 V: 20–160 A
Rated Welding Output
120 V: 90 A at 13.6 VDC, 100% duty cycle;
130 A at 15.2 VDC, 30% duty cycle
240 V: 110 A at 14.4 VDC, 100% duty cycle;
160 A at 16.4 VDC, 20% duty cycle
120 V: 60 A at 22.4 VDC, 100% duty cycle;
90 A at 23.6 VDC, 30% duty cycle
240 V: 110 A at 24.4 VDC, 100% duty cycle;
160 A at 26.4 VDC, 20% duty cycle
Ancilliaries
Industrial Applications
Racing / Customizing / Restoring
DIY / Home Hobbyist
Farm and Ranch
Metal Art / Sculpting
Manufacturing
Aerospace
Boat / Yacht
Construction
Education / Training
Heavy Equipment Manufacturing
High Purity Processing
Infrastructure
Mechanical Contracting
Package Includes
Maxstar 161 power source
6.5 ft. (2 m) 120-volt and 240-volt power cords
Stick electrode holder with 13 ft. (4 m) cable and 25 mm Dinse-style connector
Work clamp with 10 ft. (3 m) cable and 25 mm Dinse-style connector
One air-cooled TIG torch connector (195234)
Handle/shoulder strap
Quick-reference guide
Net Width
5.6 in. (142 mm)
Net Height
10.3 in. (262 mm)
Net Length
13.5 in. (343 mm)
Net Weight
13 lb. (5.9 kg)
Portability
Handles
Straps
Warranty
3 years - Miller's True Blue Warranty
SHIPPING DIMENSIONS

Height:
1.00 Inches
Width:
1.00 Inches
Length:
1.00 Inches
Weight:
1 Lb(s) 0 Oz