Glasses & Eye Protection for Plasma Cutting

SORT BY
Sellstrom DP4 Multi-Purpose Face Shield With Shade 5 lens
Sellstrom DP4 Multi-Purpose Face Shield With Shade 8 lens
Why do I need to wear eye protection when plasma cutting?
Like any electric arc, a plasma cutting arc has a broad spectrum of electromagnetic radiation—from infrared light to UV (Ultra Violet) light. With plasma cutting, though, you're exposed to intense "blue light," which is the most visible light in the spectrum of light emitted by plasma arc cutting and the most dangerous.
How serious of a risk does plasma cutting pose to vision?
On a scale of 1-10, about a 10-and-a-half. Exposure to light from the plasma arc can easily cause macular degeneration, retinal detachment and permanent blindness. You absolutely need eye protection, and we'd go one step further and recommend full face protection.
ANSI and the American Welding Society publish guidelines for eye protection in ANSI Z49.1:2005 Safety in Welding, Cutting, and Allied Processes. The chart below outlines their recommendations for eye protection when plasma cutting: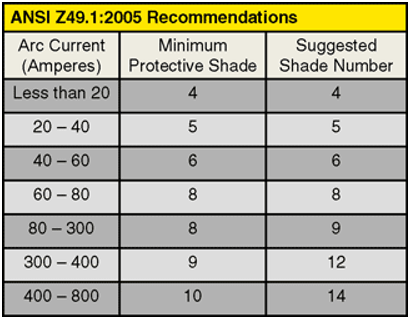 For maximum protection, use a face shield over your safety glasses
It's not just your eyes you need to be concerned about. If you use only torch goggles or safety glasses, you'll get a nice sunburn on your face and neck in as little as 10 minutes of cutting. And there's always a chance molten metal will spatter on your face, particularly if you're working on something that requires you to cut from underneath.
Work safe: Wear safety glasses/goggles and a full face shield.
Welders Supply carries eye protection from the top brands in the industry – at the best prices around
Safety Glasses and Goggles from:
Miller
3M
Jackson
StarLite
Gateway
Face Shields by:
Miller
Sellstrom
Hypertherm