Miller Plasma Cutting - 3/8" Capacity

SORT BY
Miller Plasma Cutting – 3/8" steel / ¼" aluminum capacity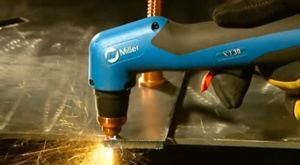 Here we have two very capable plasma cutters. Each is suitable for a broad range of work—either shop-based or on-site. Both provide serious cutting power: 3/8" mild steel or stainless and ¼" aluminum. Both incorporate proprietary Miller technologies, including their Auto-Refire Technology which automatically controls the pilot arc to maximize power when cutting thicker metal and their Wind Tunnel Technology—an internal air flow that protects internal electrical components from the inevitable jobsite dust and dirt.
What's the difference, you ask? The Spectrum 375 X-Treme is designed for portability and adds the versatility of 115V or 230V input with connectors included (as well as a heavy-duty carrying case). If your work has you on the go to different job sites and you also need the ability to run off your truck battery, you'll want to opt for the 375 X-Treme package. If you're looking for a cutter to primarily use in your workshop, choose the Spectrum 375 with XT30C torch.
Contact Welders Supply today and get the lowest prices for the world's finest Miller welding machines and supplies.