Miller Plasma Cutting - 1/4" Capacity

SORT BY
Miller Spectrum 375 X-Treme – ¼" aluminum/ 3/8" steel capacity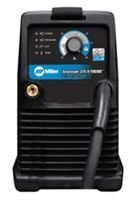 Leave it to Miller Electric to come up with the most portable and powerful 30-amp plasma cutter in the business. With the power to cut through 3/8" mild steel or ¼" aluminum and easy connection to either 120V or 240V with Auto-Line technology and MVP Adaptors, the Miller Spectrum 375 X-Treme is perfect for the job site or chores around the farm. Miller's Auto-Refire Technology automatically controls the pilot arc to provide optimal power for cutting thicker metal without the need to manually re-trigger.
This all-in-one package includes the ergonomically designed XT30 torch with a flexible 12 ft. cable and the X-Case heavy-duty travel box—great for protecting it from the elements while hauling in the back of your truck. Plus, there's room inside for your gloves, eye protection and consumables.
Specifications

Input Power
120 - 240 Volts, 1-Phase, 50/60 Hz
Rated Output
240 V - 30 A at 92 VDC, 35% duty cycle
120 V (20A) - 27 A at 92 VDC, 20% duty cycle
120 V (15A) - 20 A at 88 VDC, 35% duty cycle
Welding Amperage Range
14 - 30 Amps
Net Weight
with torch: 19 lb (8.6 kg)
Pressure Flow
5 SCFM (146 L/min) at 90 PSI MIN (621 KPa) 120 PSI MZX (828 kPa)
Contact Welders Supply today and get the lowest prices for the world's finest Miller welding products and supplies.