Best TIG Welding Machines Under $1100

SORT BY
ESAB Fabricator 141i - 110 Volt MIG/TIG/Stick Machine
Thermal Arc Fabricator 181i 230Volt Mig/Tig/Stick Machine
Best TIG Welder Under $1100
Welders Supply offers TIG welders for shop professionals and garage hobbyists. If you're looking to skip the spatter from other arc welding processes, a TIG welder can join almost all metals with superior weld quality. Weld steel, stainless steel, Chromoly, aluminum, nickel alloys, magnesium, copper, brass, bronze and even gold. Work on wagons, bike frames, lawnmowers, door handles, fenders and more. If you're looking for clean welds without breaking the bank - you've come to the right place.
Advantages of TIG Welders:
Weld more metals and alloys than any other process
Create high-quality welds
No sparks or spatter
No flux or slag
No smoke or fumes
Use one shielding gas for all applications
Weld in all positions, including flat welds, vertical welds and overhead welds
TIG Welders from Top Brands for Less
Welders Supply sells TIG welders under $1100 from Victor ESAB. We work with reliable brands to save you money without sacrificing the quality of your welds. Many expensive TIG welders cater to professional welders with features not relevant for hobbyists. If you're a welding student, casual welders, or work in a generalized field, these TIG welding machines under $1100 provide all the basics without hurting your pocket.
The Best TIG Welding Machines Under $1100:

The ESAB Fabricator 141i Welder is a portable, 3-in-1 welding system for TIG welding. Weighing in at 33 pounds, it's easy to move around but packs enough punch to get the job done. The Fabricator 141i is lightweight, easy to use and has convenient features like overload protection, a flow gauge regulator, and a fan on the welder to keep dust and dirt out of the machine.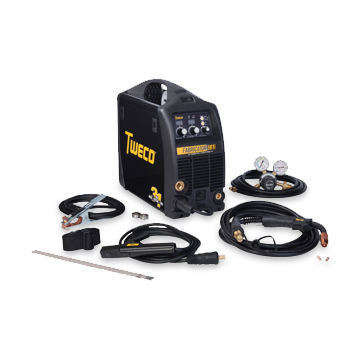 The welders' reviews are in - this TIG machine rocks. Enjoy the benefit of three machines in one with the Thermal Arc Fabricator 181i 230 Volt MIG/TIG/Stick Machine #W1003181. 145 A/22/5 V @ 30% duty cycle means you have enough power to get the job done. This compact beast completes quality welds on stainless steel, aluminum & steel.
Free Shipping for the Best TIG Welders
Welders Supply offers free shipping on your new TIG welder to all of the lower 48 states.