Miller Plasma Cutting - 3/4" Capacity
3 items found

SORT BY
Miller Spectrum 875 Plasma Cutter with XT60 Torch, 20ft OR 50ft Cable
$3,245.00
$4,096.00

*
You Save
$851.00

View Product
Product Number: 907583
Miller Spectrum 875 Auto-Line XT60 Hand-Held Torch with 20ft Cable #90...
$3,495.00
$4,430.00

*
You Save
$935.00

View Product
Product Number: 907584
Miller SPECTRUM 875 60A 208/230 1PH 25 907583002
$3,755.00
$4,757.00

*
You Save
$1,002.00

View Product
Product Number: 907583002
Miller Plasma Cutting – ¾" aluminum, 7/8" steel Capacity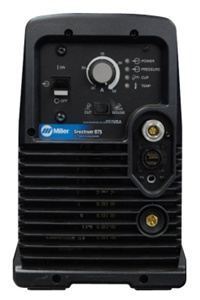 Welders Supply offers several versions of this powerhouse, with the biggest differences being in the length of cable and an upgrade from the XT60 torch to the XT60M long-body machine torch.
The Spectrum 875 is loaded with some of the most advanced technology coming out of Miller Electric. It runs flawlessly off any primary power source from 208 to 575 volts and incorporates their Auto-Refire Technology to automatically switch the pilot arc in and out for maximum power when cutting thicker metal. For the best possible cutting and gouging performance, Miller's Automatic Air Regulation seamlessly adjusts air pressure to the torch.
Welders Supply carries the Spectrum 875 in a variety of configurations. Whether your work takes you to construction sites, to ranches, or just to your pole barn out back, the Spectrum 875 makes short work of just about any job.
Shop Miller plasma cutters and other welding accessories from Welders Supply.