Best Stick Welding Machines Under $1100

SORT BY
Miller Thunderbolt 210
ESAB Fabricator 141i - 110 Volt MIG/TIG/Stick Machine
Thermal Arc Fabricator 181i 230Volt Mig/Tig/Stick Machine
The perfect stick welding machine without breaking the bank.
Welders Supply offers a selection of stick welding machines perfect for at-home welding, auxiliary welding projects, or even first-time buyers who are looking to purchase a professional-grade machine without overspending. These machines are typically smaller, making them great for garage storage and highly portable for those who don't have a welding shop or truck to haul large projects and machines around.
Advantages of Low-Cost Welders:
Highly portable
Easy to store
Deliver what you need without paying for fancier features
Save more for consumables
Smaller machines can often go where larger welders cannot
Great for training & practice
Don't Spend More than You Have To
Paying for a more expensive welder likely means paying for features that you might not need. Many of the higher-end machines we offer are more expensive because they have features that cater to professional welders. But not everyone who welds does it as a primary source of income. Not all welders need to rely on their machines to do their job and earn a living. And not all welders need highly versatile machines that can support various methods of welding. If this sounds like you, you're likely better off not paying for all the features day-in-and-day-out professionals need.
If you're a welding student, more casual welder, or work in a more generalized field, these stick welders are cost-effective and reliable machines that can provide the basics as well as any $1,100+ machine.
Our Best Stick Welding Machines Under $1100:

The Miller Thunderbolt 210 is clearly best-in-class for dependability, portability, overall versatility, and power. This portable stick welding machine can plug-and-weld with the Hot Start™ technology to easily create reliable arcs for those time-sensitive jobs. Take advantage of the multi-voltage plug (MVP™) to work with 120 or 240-volt receptacles without tools for full electrical adaptability.

The ESAB Fabricator 141i Welder is a portable 3-in-1 welding system for MIG, TIG, and Stick welding. Weighing just 33 pounds, it's easy to move around but packs enough punch to get the job done without weighing a pound more than it needs to. Not only is the Fabricator 141i lightweight and easy to use, it has well-thought-out features like overload protection, a flow gauge regulator, and a fan on the welder that keeps dust and dirt from being sucked into the machine.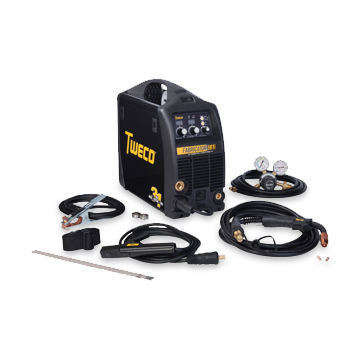 This compact little beast has Stick, MIG, and TIG welding capabilities, so it's really an all-in-one package. Light stainless steel fabricating, steel, and aluminum are all within the Thermal Arc Fabricator's domain. It's portable, powerful, and pretty affordable relative to other welding machines with similar capabilities.

The Miller Thuderbolt® 160 DC Stick Welder is a best in class dependable, portable, powerful stick welder. At 15 pounds, it's lightweight (almost 100 pounds lighter than Miller's previous model) and perfect for carrying around job sites, garages, and larger projects. At just $500, this is the ideal machine for more casual welders or beginners looking to practice.
Quality Products - 100% of the time
Welder Supply provides high-quality products to local industries. The welding machines we carry are no exception, even the low-cost ones. We know great welding machines and what welders are looking for. Because we're not just a website. We Are Welders.