Share

Print
$2,195.00
$2,780.00
Reduced Price
You Save
$585.00
CALL or CHAT

for more options
CALL or CHAT

for more options

Miller MULTIMATIC 200 Welder #907518
Weld like a wildcat with the Miller MULTIMATIC 200!

The Miller MULTIMATIC 200 Welder is Miller's most versatile machine for MIG and TIG welding to date. It is the only all-in-one portable multiprocess welder. It's lightweight, at only 29 pounds (13.2 kg). You can run it at 120 volts, or if you have the power you can run it at 230 volts. Its portability allows you to take it anywhere.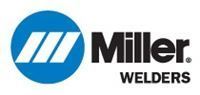 Auto-Set Elite - Miller's Auto-Set Elite makes it easy to fine-tune your setting for multiple types of materials and processes. It's very simple to set up and use.
Excellent Arc Characteristics - With Multimatic 200 you have positive arc starts. Extremely stable arc allows for minimal spatter on both mixes of gases and straight CO2. Straight CO2 is less expensive than running mixes or argon.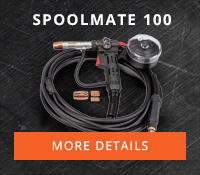 OPTIONAL: Simple Aluminum Solution - Miller Spoolmate 100 direct connect spool gun allows you to weld aluminum up to 1/4 inch with 4043 aluminum wire. It's an economical and reliable solution for aluminum welding projects.
Fan-On-Demand - The Millermatic 200 fan technology only operates when airborne contaminants are pulled through the machine. This reduces noise and power consumption.
Plugs in Anywhere - The Millermatic 200 features Multi-voltage plug (MVP). It allows you to connect easily to either 120 or 230-volt power receptacle. Does not require any tools to change the connection ports. Just choose the plug fitting the receptacle and connect it to the power cord.
OPTIONAL TIG Contractor Kit - Everything you need for remote TIG welding.
Miller's Auto-Line Technology - Automatically connect to 115 or 230 VAC, without removing the cover. Gives you state-of-the-art flexibility.
Miller MULTIMATIC 200 Welder Applications:
Aluminum Welding
Farm and Ranch
Field Maintenance and Repair
Home/Hobby
In-Plant Maintenance and Repair
Mechanical Contracting
Motorsports (car, truck, bike, etc.)
Rental
Schools/Training

View all Miller Welding and Cutting Products
Other Miller Multimatic 200 Options:
Miller MULTIMATIC 200 Welder General Specifications:

Imput Power
120 V, 20A, 50/60 Hz, single phase
230 V, 18 A, 50/60 Hz, single phase
Rated Output
CV: MIG/Flux-cored
120/230 VAC -- 110 A at 19.5 V, 20% Duty Cycle
120/230 VAC -- 150 A at 21.5 V, 20% Duty Cycle
CC: TIG
120 VAC -- 150 A at 16 V, 30% Duty Cycle
230 VAC-- 150 A at 16 V, 30% Duty Cycle
CC: Stick
120 VAC -- 100 A at 24 V, 35% Duty Cycle
230 VAC -- 150 A at 26 V, 30% Duty Cycle
Welding
Amperage
Range
MIG 30-200 Amps
TIG 5-150 Amps
Stick 20-150 Amps
Wire Speed
70- 425 IPM (1.8 - 10.8 m/min)
Net Weight
29 lbs. (13.2 kg)
Max Open
Circuit Volt
90 VDC
(22-25 VCD) Sense voltage for Stick and Lift-Arc TIG
Wire Diameter
Capacity
.023 - .035 in (0.6 - 0.9 mm) Solid Steel
.023 - .035 in (0.6 - 0.9 mm) Stainless
.030 - .045 in (0.8 - 1.1 mm) Flux Cored
.030 - .035 in (0.8 - 0.9 mm) Aluminum
Max Spool Size
Capacity
8 in (203 mm)
Dimensions
H: 14.5 in (368 mm)
W: 9.75 in (248 mm)
D: 17.0 in (432 mm)
SHIPPING DIMENSIONS

Height:
10.00 Inches
Width:
15.00 Inches
Length:
17.00 Inches
Weight:
50 Lb(s) 0 Oz
---
Have a question about this product? Submit your question using the form below
People who bought this product were also interested in: