Miller MULTIMATIC 200 Welder #907518
The Miller MULTIMATIC 200 Welder is Miller's most versatile machine to date for MIG and TIG welding and the only all-in-one portable multiprocess welder. At just 29 lbs., it's portable enough to take just about anywhere. And with the ability to run at 120 volts or 230 volts, powering up won't be an issue.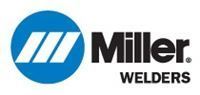 Auto-Set Elite - Miller's Auto-Set Elite makes it easy to fine-tune your setting for multiple types of materials and processes. It's a cinch to set up and use.
Excellent Arc Characteristics - The Multimatic 200 gives you positive arc starts and an extremely stable arc for minimal spatter on both mixes of gases and straight CO2. Straight CO2 is less expensive than running mixes or argon.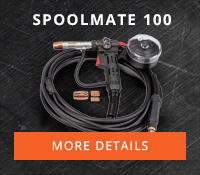 OPTIONAL: Simple Aluminum Solution - Add a Miller Spoolmate 100 direct connect spool gun and you can weld aluminum up to 1/4 inch with 4043 aluminum wire. It's an economical and reliable solution for aluminum welding projects.
Fan-On-Demand - The Millermatic 200 fan technology only operates when airborne contaminants are pulled through the machine. This reduces both noise and power consumption.
Plugs in Anywhere - The Millermatic 200 features Miller's Multi-Voltage Plug (MVP). It allows you to connect easily to either 120 or 230-volt power receptacles. No tools are required to change the connection ports. Just choose the plug that fits the receptacle and connect it to the power cord.
OPTIONAL TIG Contractor Kit - This kit has everything you need for remote TIG welding.
Miller's Auto-Line Technology - Automatically connect to 115 or 230 VAC, without having to remove the cover and change any settings.
Miller MULTIMATIC 200 Welder Applications:
Aluminum Welding
Farm and Ranch
Field Maintenance and Repair
Home/Hobby
In-Plant Maintenance and Repair
Mechanical Contracting
Motorsports (car, truck, bike, etc.)
Rental
Schools/Training
What's Included:
Multimatic 200
10-ft. (3 m) MDX™-250 MIG gun
13-ft. (4 m) lead with electrode holder and 25-mm Dinse connector
10-ft. (3 m) work lead with clamp and 25-mm Dinse connector
Argon and AR/CO2 mix regulator/flow gauge with 12-ft. (3.7 m) hose
Power cord and MVP plugs for 120 and 240 V
Quick Select™ drive roll for .024 in (0.6 mm) or .030/.035 in (0.8/0.9 mm) solid wire, and .030/.035 (0.8/0.9 mm) flux cored wire
Two contact tips for .030-in. (0.8 mm) wire, and two contact tips for .035-in. (0.9 mm) wire
Material thickness gauge #229895
Information/settings chart and quick setup guide

View all Miller Welding and Cutting Products
Other Miller Multimatic 200 Options:
Miller MULTIMATIC 200 Welder General Specifications:

Imput Power
120 V, 20A, 50/60 Hz, single phase
230 V, 18 A, 50/60 Hz, single phase
Rated Output
CV: MIG/Flux-cored
120/230 VAC -- 110 A at 19.5 V, 20% Duty Cycle
120/230 VAC -- 150 A at 21.5 V, 20% Duty Cycle
CC: TIG
120 VAC -- 150 A at 16 V, 30% Duty Cycle
230 VAC-- 150 A at 16 V, 30% Duty Cycle
CC: Stick
120 VAC -- 100 A at 24 V, 35% Duty Cycle
230 VAC -- 150 A at 26 V, 30% Duty Cycle
Welding
Amperage
Range
MIG 30-200 Amps
TIG 5-150 Amps
Stick 20-150 Amps
Wire Speed
70- 425 IPM (1.8 - 10.8 m/min)
Net Weight
29 lbs. (13.2 kg)
Max Open
Circuit Volt
90 VDC
(22-25 VCD) Sense voltage for Stick and Lift-Arc TIG
Wire Diameter
Capacity
.023 - .035 in (0.6 - 0.9 mm) Solid Steel
.023 - .035 in (0.6 - 0.9 mm) Stainless
.030 - .045 in (0.8 - 1.1 mm) Flux Cored
.030 - .035 in (0.8 - 0.9 mm) Aluminum
Max Spool Size
Capacity
8 in (203 mm)
Dimensions
H: 14.5 in (368 mm)
W: 9.75 in (248 mm)
D: 17.0 in (432 mm)
SHIPPING DIMENSIONS

Height:
10.00 Inches
Width:
15.00 Inches
Length:
17.00 Inches
Weight:
50 Lb(s) 0 Oz
Manufacturer Reviews
I have used the Miller Multimatic 200 for 2 full years now in all kinds of weather and with all types of material. With its autoadjust feature, I rarely have to go to manual settings. I bought a second one just to be sure I have the best ready at a moments notice!
Product Questions and Answers
---
Q - How large of a spool can the Miller Multimatic 200 hold?
A - It can hold up to 10 lbs of wire.
Q - What size generator should be used with the Miller Multimatic 200?
A - The Miller Multimatic 200 will require 4.5 KW for welding at 150 amps at 26 volts at a 30% duty cycle.
Q - Can the Multimatic 200 weld aluminum?
A - The Miller Multimatic 220 is not able to TIG weld aluminum. It comes ready to Stick and MIG weld, but will need an additional gun add-on to MIG weld aluminum.
Q - Does the Miller Multimatic 200 come with a regulator?
A - Yes, it comes with a Smith Argon and AR/CO2 mix regulator.
How to connect shielding gas supply:
Secure gas cylinder.

Obtain gas cylinder and chain to running gear, wall, or other stationary support so cylinder cannot fall and break off valve.

Clean gas valve.

Remove cap, stand to side of valve, and open valve slightly. Gas flow blows dust and dirt from valve. Close valve.

Install.

Install so face is vertical.

Connect gas hose.

Connect gas hose between regulator/flowmeter gas hose connection, and the appropriate fitting for gas type on rear of welding power source.

Adjust flow.

Typical flow rate for CO2 shielding gas and MIG welding is 15 to 30 cfh and mixed gas is 25 to 45 cfh.

Install adapter.

Install adapter with O-ring between regulator/flowmeter and CO2 cylinder.
Have a question about this product? Submit your question using the form below
People who bought this product were also interested in: